King, queen credit 4-H for skills
2010 Canfield Fair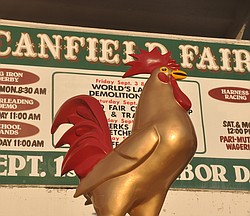 Gallery
By Ashley Luthern
CANFIELD
The 4-H Royal Court crowned its king and queen at the Canfield Fair's Youth Day, and both credited the program for preparing them for life in college and beyond.
Angel Blake Algarin, 17, and Delorean Jones, 17, were honored as the 2010 4-H king and queen.
"The most rewarding thing about 4-H is all the skills that I've gained. Before this, I would havebeen so afraid to talk, and I'm a good leader now," said Jones, who attends Austintown Fitch High School and has been in 4-H for nine years.
Algarin, who has won state awards for public speaking and multimedia, said he enjoyed volunteering as part of 4-H.
"I'm very active in public speaking and do beekeeping for 4-H, and I'm a lot closer to agriculture than I would have been," said Algarin, who goes to Western Reserve Local High School.
The 10 members of the royal court are chosen from a larger pool of written applications, said Janice Hanna, of county extensions education for 4-H youth development.
The top 10 are chosen and interviewed by a panel of judges, and the king and queen represent 4-H throughout the year until the 2011 Canfield Fair, she said.
"Filling out these applications, these kids learn to be complete, neat and concise, which will help them in college or job applications," Hanna said. "4-H is a youth- development program. We're for anybody, not just people who live on a farm."
She added that the judges face a difficult task each year.
"Sometimes, people are reluctant to be a judge because they know how hard it is. We're looking at some outstanding people and to be on court is quite an honor," Hanna said.
The king and queen were awarded a $100 savings bond.
The Junior Fair Outstanding Youth were also announced Thursday afternoon.
Heidi Moff, 19, and Dylan Yuhas, 19, were named the Outstanding Youth. Moff has been with the Farm Bureau for seven years and is also a member of 4-H. She is attending Ohio State University and studying to become a vet technician.
Yuhas has been involved with 4-H for 14 years and studies nutrition at Youngstown State University.
---
4-H ROYAL COURT
King: Angel Blake Algarin, 17
6 years in 4-H, member of Western Reserve Rangers, lifetime 4-H State Ambassador.
Won state awards for public speaking, multimedia, beekeeping and "Outstanding of the Day" in veterninary science, dog care and alcohol decisions.
Queen: Delorean Jones, 17
9 years in 4-H, President of Mahoning County Junior Leaders, Mahoning County Fashion Board, vice president of the Western Reserve Rangers, State 4-H Ambassador.
Won first place clock trophy in archery at the Ohio State Fair.
Court:
Heidi Moff, 19, The Ohio State University
Katie Stanwood, 18, South Range High School
Dylan Yuhas, 19, Youngstown State University
Aaron Wehr, 17, South Range High School
Melissa Moliterno, 17, home schooled
Jonathon James, 17, West Branch High School
Andrea Detwiler, 18, OSU
Tom Ripley, Mahoning County Career and Technical Center
OUTSTANDING YOUTH
Winners:
Heidi Moff, 19, OSU
Dylan Yuhas, 19, Youngstown State University