Family man cuts ribbon to open fair
Robinson Family Singers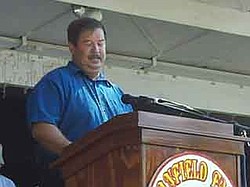 Video
2010 Canfield Fair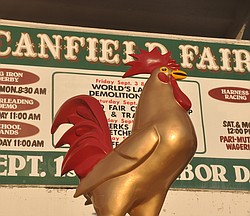 Gallery
By Ashley Luthern
CANFIELD
A family man cut the ribbon to open the 164th Canfield Fair on Thursday morning.
Mark Robinson of the Robinson Family Singers gave the keynote speech and helped the 17 fair-board members and local politicians cut the ribbon.
"It was very humbling," Robinson said of being asked to lead the ceremony.
"My favorite thing about the Canfield Fair is seeing the family unit together. It brings people together year after year," he added.
The Robinson Family Singers have performed at the Canfield Fair for 19 years, and its stage is located near Gate 8 in the southwest part of the fairgrounds.
About 14 years ago, the Robinsons met with the fair board to discuss performing every other year and ended up being told to perform annually.
"[The board] said that we had become a tradition, and that was a relief to our family," Robinson said.
The ribbon-cutting always took place Thursday when the fair was five days long and ran Thursday through Labor Day, said Bev Fisher, fair manager.
When the fair expanded to six days, the ceremony remained on Thursday because of tradition and in the event that the fair ever returned to five days, she said.
Fair Board President James Brown Jr. welcomed the crowd to the ribbon-cutting.
"I invite each person to come enjoy food, fellowship and memories," Brown said.
He added that the Junior Fair participants are the "true stars of the fair."'
The marching band from Brown's alma mater, Western Reserve High School, played the "Star Spangled Banner" and "God Bless America."