Digital cameras increase entries
2010 Canfield Fair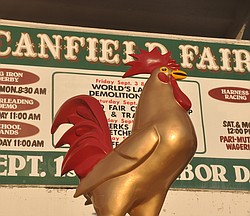 Gallery
By Elise Franco
Canfield
A spike in the number of Fine Arts entries at the Canfield Fair, specifically in photography, could be due in part to the ease of digital technology.
Marcy Applegate, Fine Arts superintendent, said since 2004, the number of people entering photographs has increased exponentially. In 2004, Fine Arts had 546 people enter photographs. In 2010, 835 people entered.
"I've been keeping records since [2004], and the number has continued going up in the past few years," she said. "There are more art groups and artists in the community that get involved."
Applegate said the department hands out 15 blue ribbons, three best of shows, four Juror's Awards and numerous second- and third-place and honorable mentions in the photography category, giving the entries a greater chance to be recognized.
She said the immediacy of digital cameras has allowed people to take better, faster pictures.
Karen Fry of Warren, who entered three black- and-white photos and took home a third-place ribbon, said she carries a camera in her purse and takes pictures whenever she feels inspired.
"I used to take thousands of photos, but I never entered them," she said. "Eight or nine years ago, I thought, 'I could do that.'"
Fry said she thinks the increase in entries has to do in part with digital technology and with folks who simply enjoy seeing their work on display.
"It's a wonderful opportunity to have thousands of people see your work at this fair," she said. "People see all the pictures and think they can do it too, and they can.
"They relate so well to the pictures."
Kathryn Infante of Youngstown, who received an honorable mention and a Juror's Award, said she enjoys seeing the young children's entries because they're so much better than anyone would expect.
"Technology has become so advanced that especially the children in the 5-to-9 age group take the most amazing photos," she said. "Because nobody's told them that they don't know how, they keep doing it."
Chris Stacey Pruitt of Canfield said she's a second-generation photographer, and her 9-year-old son, Christian, has taken on her passion.
Pruitt, whose mother, Lee Stacey, was the Canfield Fair photographer for many years, said the digital camera has made it easier to take photos quickly while maintaining a high standard of quality.
"I think the quality of work has actually increased as well as the quantity of entries," she said. "Knowledge is getting better."
Pruitt said it's not only young people learning to work with cameras, but older people as well.
"If you look around, the quality of work from everyone phenomenal," she said.