Boardman Vs Mooney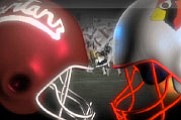 Video
Team

| Record | Div. | Conf. |
| --- | --- | --- |
| 7/5 | Div. IV | Independents |
Team

| Record | Div. | Conf. |
| --- | --- | --- |
| 6/4 | Div. I | All-American Conference Gold Tier |
Team

| Record | Div. | Conf. |
| --- | --- | --- |
| 6/5 | Div. II | All-American Conference Gold Tier |
Team

| Record | Div. | Conf. |
| --- | --- | --- |
| 8/3 | Div. III | All-American Conference Red Tier |
Why can't — or won't — schools schedule more games with the potential for a big gate?
By JOHN BASSETTI
The Canfield Fair may be something to crow about this weekend, but the matchups between four quality high school football programs on Friday will be something to crowd about.
A standing-room-only throng of 6,000 is expected at Poland for the Fitch game, while a sizable turnout is anticipated for the Boardman-Mooney clash at YSU.
In 2009, in the first football game between Mooney and Boardman since 2003, Mooney won, 23-17. The crowd at Boardman's Spartan Stadium was 8,452.
The contract will be extended another two years.
"We'll play as long as both schools can work out a common date," Boardman athletic director Dave Smercansky said. "As of now, we have an additional two-year contract."
The Poland-Fitch series still up in air beyond two years.
"It's a home-and-home series, for now," said Poland A.D. Brian Banfield. "We'll evaluate and see where we're at as a program to see if it'll continue or go in a different direction."
The question is, shouldn't schools in need of more funds to support athletics schedule more of these marquee non-conference games?
Mooney A.D. Don Bucci, whose school has had the most success, locally, posed the question another way: "Why don't they play us?"
While the answer may be a no-brainer, Bucci thinks the risk is worth taking.
"Whether they feel we're Division III and too strong for them or what, being Div. III they have to understand that we're going to win 7-8 games a year, and consequently, they'll get a pile of points if they beat us."
Bucci emphasized the benefit to athletic departments — his and others.
"Today, athletics are in need of financial help to support other programs. They need good gates in football and one way to get those is to play local schools."
Aside from Boardman, Bucci has tried to schedule locally for years with no success.
Usually, overtones of an uneven playing field and accusations of recruiting are the charges.
"When we have some open dates and I advertise, I don't hear from anyone locally. They absolutely refuse to play us and that's sad. The biggest problem, they say, is we recruit. But our kids — athletes or not — pay their tuition like everyone else, even if they get aid of $300 or so.
Bucci stressed that Mooney wants to play locally.
"We play twice in Columbus and once in Buffalo and Cleveland [this season]. We're playing all over. We shouldn't be playing Pickerington North and schools like that. I know the Boardman gate last year was a tremendous boost to their athletic program and this weekend's game will help our athletic budget tremendously."
With rent of Stambaugh Stadium costing $3500, a local-local matchup would ease the bite.
"We'd love to play our entire schedule, locally, if we could. That's the way it was when we were in the [Steel Valley Conference] when it had eight teams."
Bucci doesn't expect Div. IV, V and VI schools to come calling, but he believes that the Cardinals are fair game for schools at I, II and III levels.
"Boardman feels that, by playing Mooney, they have a very competitive and good program and going into the game they have a 50/50 shot of winning, like we do. Plus, they're going to make a ton of money. That should be reason enough for the rest of these programs. Yet, they'll say, 'Mooney doesn't want to play us.' That's a lie, I don't care what division they're in, we want to stay local because we can't support other programs by playing out-of-town teams."
The avoidance mentality doesn't hold water with Bucci.
"What a way to go into a game, knowing you're not going to win. Some of the local schools playing schools out of town and winning aren't getting many computer points [maybe for 3-4 games], whereas, beating Mooney, they know they'll get computer points for at least 7-8 games and maybe put them in the playoffs. That should be an incentive to want to play Mooney and Ursuline the same way."
Smercansky would welcome a Boardman-Poland or Boardman-Canfield matchup.
"The crowds would be phenomenal," he said. "I think it would be great for the communities. We have bigger numbers, but they'd be able to hang with just about anybody in the area."
Smercansky said that the Boardman-Fitch games should continue.
"We still have great relations with Fitch and that will continue, as long as the schedules work out. You don't know what's going to happen with Fitch in the AAC and their independent schedule, but I know that myself and [Fitch A.D.] Rob Conklin are going to work as hard as we can to make sure that we continue to play each other."
Smercansky would also want Howland and Harding as opponents.
"Those would be tremendous additions to our schedule and, obviously, to their schedules as well in terms of the finances.
He said that Boardman and Harding were in the talking stages but couldn't find a common date.
Poland coach Mark Brungard said that, despite the big step, the time is right for a Div. I school.
"From a head coach's perspective, it's the challenge of playing a Div. I program to see where our team stacks up. There's the possibility they can beat us, but we can beat them."
Given that Fitch is more than double Poland's size (650 boys in top 3 grades to Poland's 299), the home-and-home arrangement probably won't continue beyond next year.
"The competitive disadvantage [for Poland, a Div. III school] to do this every year [in football] is obvious. You have to pick the sports to do this. It's a game people will talk about and it's financially lucrative, but, enrollment-wise, it's not comparing apples to apples. I can't ask our kids to play [this type of game] year-in and year-out."
Fitch's open enrollment is another factor to consider.
"That's an advantage some schools have over us because we have to play kids within our borders," Brungard said. "But I thought our program was in a good spot and I thought it was a good time to try to step out and see if we can do something."
Div. II schools on Poland's schedule are Canfield and Howland, with 410 boys and 450 boys, respectively, but the Bulldogs also welcome other suitable competition.
"We're used to playing bigger schools in big games, but it's not like we turned down others. A lot of public schools around the Mahoning Valley won't play us. It's a shame that, because our program has had success, teams that are bigger or the same aren't willing to play us."
Conversely, Brungard understands why Springfield isn't playing Poland.
"We're twice as big," he said.
Brungard's philosophy, however, figures in the equation.
"Because I'm a believer in public vs. public — I wouldn't play the parochial route either — it's hard to find games."
Poland's other games are against four Div. II's and five Div. III's.
In basketball, playing a few bigger schools doesn't hurt because all schools make the post-season.
"In football, everyone is trying to schedule 7-8 wins," Brungard said. "With non-conference opponents, it's a fine line scheduling teams that are going to win [most of their regular-season games], but not beat you.
"With Fitch, we decided to take a chance and step up. They're awfully good and we're going to find out where we're at. It should be a fun night and non-league so there's not a lot to lose. But to do it year to year is a non-option."
The genesis of Fitch-Poland came from a phone conversation between athletic directors of Fitch (Rob Conklin) and Poland (Brian Banfield).
"We're mutual friends and I've been around awhile, so it's basically networking," Conklin said. "In this case, in an off-the-wall comment with Brian, I said: 'How about week 2 in 2010?'
"I didn't expect anything to come of it, but then, after talking to Brungard, he called back and they thought it was not a bad idea so that's where it went."
He'd love to continue beyond 2011 for several reasons, one being Fitch's new-found independence in football in 2012.
"We'd like to maintain our relationship with Poland into the future and hopefully, establish similar relationships with Howland and Canfield. I'd love to count on weeks 5, 7, 9 from those three, but that's up to them."
As for Poland, Conklin concluded: "I appreciate them jumping on board. It's a credit to their program to agree to play us. It's a great challenge, no doubt, for us. We know what we're getting into.
When Banfield was hired, he conversed with Brungard about challenging the kids out of conference.
"Big Red was a challenge for our student-athletes and we agreed to try a team from the Mahoning Valley. Being a successful Div. III, we looked for quality Div. I's and Fitch was a good fit.
"A playoff-type atmosphere is an important part of the game experience," Banfield said.
"There's excitement at both schools, so it's created a lot of enthusiasm for a week 2 game."
Tim Kelty, an elementary principal in the Austintown district who played and coached at Fitch in 1980s and 90s, said the matchup is long overdue.
"When Fitch was a powerhouse, we didn't think about Poland or Canfield or Howland. Now that's changed and I like where we're going with Poland. I would like to see us play in their out-of-league games. I don't agree with playing parochials; they should be in their own league. I don't agree with how they carry out the business end of football things sometimes."
Kelty, chairman of the Fitch sports hall of fame, is disappointed that the Falcons are leaving the Federal League.
"We're going to see Hoover and McKinley and others [Federal members] in the playoffs, so why not stay in the league?
"I'm glad we're playing Poland. I'd like to see more of these rivalries."