His peppers are bigger than life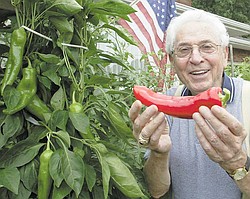 Photo
Michael Lacivita shows off a red pepper he grew at his Youngstown home. His pepper plants are more than 5 feet tall, and he says one secret to such a harvest is constant hydration.
By SEAN BARRON
YOUNGSTOWN
If you visit the Grange Building at the Canfield Fair, you will be hard-pressed to miss Michael J. Lacivita's award-winning Italian sweet peppers.
That's largely because they stand more than 6 feet from their containers.
"Five years ago, I started hauling them in containers in a truck," the 86-year-old Lacivita said recently from his Eldora Drive home on the city's West Side.
Gardening has been a passion of Lacivita's for most of his life. For about the last 17 years, Lacivita has raised 6-foot-tall or bigger pepper plants at his residence and has won several awards for his efforts, most notably the blue ribbon for vegetable oddities at this year's Canfield Fair. Wednesday's award was his sixth first place in as many years.
For the last several years, Lacivita has gotten a bit of extra help from grandsons Patrick Krieger and Jeffrey Vicarel, 20 and 23, respectively.
The secrets for successful, robust peppers, Lacivita said, are consistent hydration, good pollination and the use of little fertilizer.
"You also have to give it tender, loving care," he said, adding that the red sweet peppers are excellent stuffed, roasted and fried.
This year's crop of plants may surpass 7 feet tall, he said.
Among Lacivita's other hobbies are photography and writing, including weekly columns in The Vindicator. The World War II Navy veteran also penned his book, "Rag Man, Rag Man," which, among other things, tells of his experiences as a young child in Youngstown during the Great Depression.
In 1996, Lacivita was inducted into the Ohio Veterans Hall of Fame. He also was inducted in the Ohio Senior Citizens Hall of Fame in 2004.
Among those to receive both inductions are former Cleveland Indians pitcher Bob Feller and Woody Hayes, former Ohio State University head football coach.