Owner reunited with his lost guide dog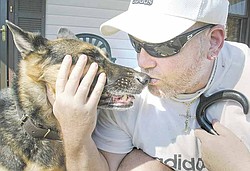 Photo
Sam Vona of Struthers and Gannon, his seeing-eye dog, are reunited. The dog disappeared Saturday evening, and Vona got him back Tuesday morning..
By Jeanne Starmack
STRUTHERS
It's a tale with a tail- wagging ending.
Gannon, a seeing-eye dog who'd been missing since Saturday evening, was brought home to his ecstatic owner, Sam Vona.
The 8-year-old German shepherd was found wandering Tuesday morning by a Struthers resident who knew he'd been missing, Vona said.
He was found on Clingan Road near Poland Seminary High School, about three miles from Vona's home at 414 Creed St., Vona said.
The man who found the dog, Sam Detoro, lives on Sixth Street in Struthers, Vona said. He had left his father's house in Poland and saw a German shepherd walking on the side of the road. Because of extensive news coverage after Gannon's disappearance, he suspected he'd found the missing guide dog, Vona said.
"He stopped his car and said, 'C'mon, Gannon,' and he got right in his car," Vona said.
Detoro was unable to be reached Tuesday.
Vona said he got a call about 11:30 a.m. from Struthers police — Detoro took the dog there.
He was missing his collars and ID tags, Vona said. But The Seeing Eye, the guide-dog school in New Jersey where Vona got Gannon, had tattooed a number in the dog's ear. The police checked it and verified the dog's identity.
Detoro drove Gannon home.
"I was crying, tears of joy," Vona said. "He was barking. He jumped out of the car and came right to me."
Gannon's disappearance Saturday, after he bolted out of his yard to chase something, set off a search in which the police and about 100 people participated.
Police searched nearby woods and found no trace of him, leading the family to believe he likely was stolen.
Vona said Tuesday it's possible that whoever took Gannon was nervous about the publicity surrounding his disappearance and set him free without his collars.
Vona said he's sure the collars couldn't have fallen off. "They'd have to be taken off," he said.
Gannon seems fine after his ordeal, though he's lost some weight, Vona said.
"He's here, playing with his ball," he said.