Judge recuses himself in case of 3 marine recruits killed in traffic crash
Donald P. Williams arraignment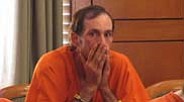 Video
Donald P. Williams of Austintown, appeared in Trumbull County Common Pleas Court Wednesday morning for an arraignment. He is charged with aggravated vehicular homicide and aggravated vehicular assault on March 31 on state Route 5 in Leavittsburg. His semi tractor hit the back of a car containing Marine corp recruits, three of whom died.
WARREN
Dozens of friends and family of the three Marine Corp recruits filled the courtroom Wednesday morning, but the hearing for Donald Williams Jr. of Austintown, accused of causing their deaths March 31, had to be rescheduled.
Common Pleas Court Judge W. Wyatt McKay, who was to preside over the case, instead recused himself and announced that the hearing will be held Tuesday morning before Judge Andrew Logan instead.
The hearing was supposed to determine whether bond for Williams would be reduced from $250,000. Williams sat through the hearing in jail clothing.
He has been in the Trumbull County jail since Monday afternoon, when he turned himself in. He faces three charges of aggravated vehicular homicide and three charges of aggravated vehicular assault and could spend up to 19 1/2 years in prison if convicted.
Michael Burnett, an assistant Trumbull County prosecutor, prepared a document for the hearing that said Williams, 45, was driving an excessive speed at the time of the crash and had two anti-anxiety medications in his system.
Williams told investigators he thinks he "blacked out" just before the accident, on state Route 5 in Leavittsburg. His semi cab hit the back of a car stopped at a traffic light driven by a Marine Corp recruiter.
The three recruits in the back seat all died in the crash, and three other people, including people in other vehicles, were seriously injured.
For more on this story, see Thursday's Vindicator or vindy.com