Clinton revs up Dems in Valley
BIll Clinton in Boardman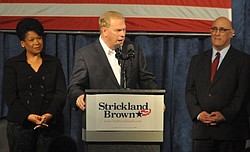 Gallery
BOARDMAN
"Where's the enthusiasm gap?"
It was a question often asked by Democratic leaders at Saturday's Mahoning County Democratic pre-Election Day breakfast, headlined by former President Bill Clinton.
Clinton spoke to a crowd of 1,800 to 2,000 people, most of whom stood rather than sit during his speech, at Mr. Anthony's.
The former president urged the audience to vote and urge others to do the same for the Democratic slate, particularly Gov. Ted Strickland.
"Where's the enthusiasm gap? Where is it?" yelled Yvette McGee Brown, the Democratic lieutenant governor nominee. "You guys do us proud. We are winning on Tuesday because of you! I just want to tell you, this has been a long year. There are people who counted us out just like people counted out the Valley."
National polls have shown that those most likely to vote lean Republican.
But Strickland said momentum is swinging in favor of Democrats at the right time.
Republicans "won this race in August," he said. "We're going to win this race in November, when it really counts."
Polls show a tight race for governor between Strickland and Republican John Kasich.
Clinton said, "It's obvious we're closing the enthusiasm gap."
During his speech, Clinton criticized Kasich, but only once mentioned him by name.
Hamilton County Commissioner David Pepper, the Democratic nominee for auditor, said, "There's a whole lot of enthusiasm for Democrats here. I tell people to come to the Valley. There's great energy and excitement here. You're obviously seeing it."
The Mahoning Valley is one of the state's most Democratic regions.
Clinton's 39-minute speech was longer than most of his stump speeches.
Not only did he urge voters to support Strickland, he spent time discussing how important it is to re-elect U.S. Reps. Tim Ryan of Niles, D-17th, and Charlie Wilson of St. Clairsville, D-6th, as well as Lt. Gov. Lee Fisher for U.S. Senate.
Strickland, Fisher "and these members of Congress have done more for you than they get credit for," Clinton said.
The former president defended the $800-billion-plus federal stimulus act for giving tax breaks to the middle class, saving the jobs of teachers and police officers, for creating other jobs and keeping the unemployment rate from going higher.
Clinton said he hated that the bill had to be passed — blaming Republicans for putting the country in a position where such legislation was necessary for the fiscal survival of the country.
In response to Clinton's appearance, Ryan Tronovitch, Republican National Committee spokesman, said: "Gov. Ted Strickland can try to hide his support for the failed Obama-agenda behind Bill Clinton, but Ohioans can see past that thinly veiled attempt to mask a record of higher taxes, out-of-control spending and budget-busting deficits. The day before Halloween, the only thing scarier for Ted Strickland than a visit from Bill Clinton would be a visit from President Obama and Vice President Biden."
Obama and Biden will campaign for Ohio Democrats, particularly Strickland, at a Cleveland rally today.
"I thought his speech was very good and very inspirational," said Jeri Smith of Salem. "It gets the enthusiasm up and maybe gets more Democrats out to the polls."
"He revved up the crowd," said Brian Baumiller of Hubbard. "If you don't come away from here voting Democratic, you never will."