Crestview ready for playoffs as ITCL champion
Mineral Ridge vs Crestview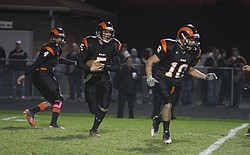 Gallery
Mineral Ridge vs Crestview
Team

| Record | Div. | Conf. |
| --- | --- | --- |
| 6/4 | Div. V | Independents |
Team

| Record | Div. | Conf. |
| --- | --- | --- |
| 6/4 | Div. VII | Mahoning Valley Athletic Conference |
By Pete Mollica
MINERAL RIDGE
If the Crestview High football team was looking for a regular season game to get ready for the upcoming playoffs, they couldn't have asked for a better finale then they got Friday night.
The Rebels (9-1), who had already clinched a berth in the Division V, Region 17 playoffs and had clinched their third straight Inter Tri-County League championship, had the battle of their lives against Mineral Ridge before claiming a 42-31 victory.
"It was just like I thought it would be," said Crestview coach Paul Cusick. "We knew we were in for a battle. They are a good football team and had been playing very well, and we knew we would have our hands full."
The Rams, who finished the year 6-4 and saw what little chances of reaching the playoffs vanish with the loss, just never gave up.
"Crestview is a great football team and they have so many weapons, but our kids played very well, and I'm so proud of their effort tonight," said Mineral Ridge coach Joe Stevens.
Both teams came up with outstanding individual efforts.
Crestview was led by senior quarterback Carter Hill, who rushed for 163 yards and passed for another 112 while tossing two touchdown passes, while the Rams countered with senior standout Dan Skiba, who rushed for 192 yards and three touchdowns and caught a pass for a fourth score.
But probably the game's biggest play came on defense for the Rebels.
Mineral Ridge had battled back to within 35-25 early in the fourth quarter and were driving again, but Rebels defensive back Brian Orr picked off a pass by the Rams' Jesse Garland at his own 22 and returned it 78 yards for a touchdown.
"That was definitely a big play and I have to look at the films, but I think that Jesse was hit just as he threw the ball, because it was well off the mark," said Stevens.
"Fumbled hurt us tonight," Cusick added. "When you lose three fumbles in a game you are not supposed to win, but give our kids credit, they hung right in there and came up with the big plays."
Hill threw touchdown passes to Adam Coppock of 12 yards and Kody Simpson of 19 yards, while senior Andrew Mayer had two touchdown runs of 4 and 33 yards and Simpson also added a 4-yard scoring run.
Skiba's touchdowns included runs of 61, 40 and 7 yards and he also had a 9-yard touchdown pass from Garland, who was intercepted twice on the night.
"Skiba is just an outstanding football player," added Stevens. "You don't coach the things he's able to do out there."
Cusick said he's looking forward to the playoffs.
"This is a different team than the teams we've taken into the playoffs the last two seasons," he said. "There is a lot more versatility on this team and with Carter back there we can attack with both the pass and the run."
"I knew tonight would be a high-scoring contest because both teams had outstanding offenses," he added. "I was surprised that we didn't have to throw the football more than we did."