Fitch advances to D1 district final against Howland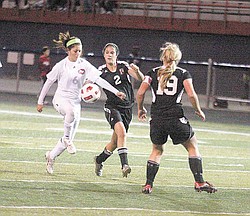 Photo
(6) Tori Koch of Fitch tries to get past (2) Selena Dasari and (19) Katie Carlisle during their game Wednesday night in Austintown.
AUSTINTOWN
Not long after Austintown Fitch's girls soccer team beat Canfield, 3-0, in a Div. I district semifinal Wednesday night, Fitch senior Tori Koch fiddled with her favorite electronic communications device before leaving Falcon Stadium.
She may have been sending or checking e-mails, but she couldn't be blamed if she were using the calculator function to solve 24 plus 3.
The first figure is the number of goals the petite but speedy forward had prior to Wednesday. Three is the number of goals she scored to put the Falcons (15-1-3) in the district championship game against Howland on Saturday at 7 p.m.
Her first two goals were assisted by Lauren Bower and Emily Durina to give Fitch a 2-0 halftime lead. The third was off of a deflection by a Canfield player.
On Koch's first goal at 24:30, Bower was situated near the goal line, to Koch's left. Koch was a bit behind Bower, who flicked the ball to Koch.
"It all happened so fast, I was just there, put my foot out and it went in," said Koch.
Durina, who, after running down the ball, was almost to the back line near the corner-kick area, made a left-footed cross to Koch for the second goal at 16:32. Koch's final goal came with 6:39 left in the game.
"It was a bad angle on my part, but it deflected off of her [a Canfield defender] and we got it in," Koch said.
"Beating Canfield was a great feeling," Koch said. "In my four years, we never beat them and it's been eight years since we made it to the district finals."
Fitch lost to Canfield at the same point last year, 1-0. In August, the teams played to a scoreless tie.
"We were kind of shell-shocked, just watching the game happening around us and they got two goals off of that," Canfield coach Phil Simone said. "In the second half, we had some push, but we just couldn't get that final drive toward goal."
Fitch goalie Ali Tolich has registered three shutouts in three postseason games: Canton McKinley (11-0), Niles (4-0) and Canfield.
Fitch coach Carlo Trafficante said that disrupting Canfield's backfield was a strategy.
"They like to knock the ball around the back and they have a holding center midfielder they play through. They always have her as a release or there as a drop to restart their attack. We wanted to take that away from them, so we used three forwards [Koch, Bower, Durina] and had one of our forwards come back and take that holding center mid away, so they couldn't let her distribute and let them do the things they're comfortable with."
At halftime, Simone told his players that they had to start winning the 50-50 ball and start challenging the Falcons for the ball.
"Our season's been a bit of a roller-coaster ride, but Fitch is a good team, so bowing out to them is not an embarrassment," he said. "Youngstown is a tough area for girls soccer."