Broken Lives - Preview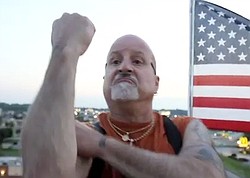 Video
Coming on October 31, 2010 The Vindicator will be starting a seven part series on addiction and recovery.
Dear Friends:
Most of you, there is no doubt, would not have liked Bob, Greg or Anthony.
Truth is, they would not have liked you, either, except if you were a means toward feeding their drug habit.
Bob Pavlich is from Poland, Gregory Todd is from East Liverpool, and Anthony Sanders is from Warren.
For their combined 87 years on Earth, 30 of them have been in the throes of tortuous drug addiction.
To each, his drug addiction was a personal demon. But the illicit and criminal behavior that accompanied that addiction was hell for everyone they encountered.
They have a story they want you to know, as do 40 of their brothers.
They all work or reside in what once was Cafaro Memorial Hospital (more recently known as Youngstown Osteopathic Hospital), just north of Wick Park on Youngstown's North Side.
Since March 2009, it's been called Ohio Valley Teen Challenge. The name is a bit misleading as the residents are men in their 20s, 30s and beyond. Though they are men biologically, within those walls, they are learning to become men by deeds.
This Sunday, we'll tell their story, and we'll tell it in a way that you've not seen in The Vindicator in some time. It's a seven-day print and video documentary called "Broken Lives." Watch for it.
Click here for my recent Sunday column on this project:
http://www.vindy.com/news/2010/oct/24/watch-broken-lives-change/
Thank you,
Todd Franko
Editor
The Vindicator
Youngstown, Ohio