Kelly Pavlik vows to be a smarter fighter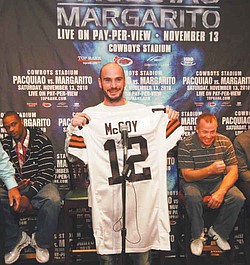 Photo
Kelly Pavlik, center, holds a Cleveland Browns' Colt McCoy jersey at a press conference.
By Joe Scalzo
YOUNGSTOWN
After losing two fights in two years Kelly Pavlik had a choice between changing his approach and digging in his heels.
He's digging in.
"I lost a fight," he said. "Big fat whoopy. Great fighters lose fights.
"Confidence-wise, I didn't lose any confidence."
Pavlik admits he hasn't looked 100 percent since his win over Gary Lockett in June of 2008, but thinks his poor performances have more to do with his health and his weight than things like his trainer or his boxing style.
"We've had some bad luck with a couple things, especially in the last fight with the weight," said Pavlik (36-2, 32 KOs), who will fight Bryan Vera (17-5, 11 KOs) in a non-title bout on Nov. 13 in Dallas. "Those losses were a learning experience. I know what to do from now on."
Specifically, he knows what not to do. Pavlik feels he lost the Martinez fight eight weeks before it started, when he entered training camp more than 30 pounds above the middleweight limit. Afterward, trainer Jack Loew was publicly questioned by Pavlik's co-managers, Mike Pavlik Sr. and Cameron Dunkin in recent months, who felt Pavlik could benefit from working with someone with a different approach.
Loew and Pavlik both said those comments were blown out of proportion by the media and said there was no need to change anything, but the remarks only emboldened Pavlik's critics, who view him as a one-dimensional slugger who can't handle fighters with good movement. As proof, they cite the losses to Sergio Martinez in April and Bernard Hopkins in 2008.
Both were bouts against slick counter-punchers. Both were unanimous decision losses.
"People have their opinions," said Pavlik. "I can't change that. I won three national titles as an amateur, which is all boxing. I went to the Olympic trials. I outboxed [Jermain] Taylor, who is a boxer.
"Then I lose to Hopkins and Sergio Martinez and all the sudden I can't beat anybody with lateral movement. When the time comes and I face a slick fighter and beat him, people will see."
Pavlik blamed the Hopkins loss on bronchitis and an elbow injury, which left him weak and ineffective. As for Martinez, he pointed out that he was winning the fight after the eighth round on the judges' scorecards before running out of gas, due to the cumulative effects of having to cut 10 pounds less than 48 hours before the weigh-in.
"We were training more for the weight than for Martinez," said Loew. "We beat him down for seven weeks and killed him the week of the fight. I was wondering what round we'd hit that wall and we did and it cost us the fight.
"We need to stay a little bit more active between fights and as long as Kelly watches his weight, and we watch Kelly watching his weight, we'll be fine."
The weight hasn't been an issue for the Vera fight — Pavlik entered around 175 for the 164-pound bout — nor has Pavlik's focus. He and Loew have spent the past four weeks training in seclusion in California, Pa.
Loew said training camp has been about getting back to basics, with an emphasis on running and boxing. They've cut out weight training — too easy to add muscle weight, too hard to cut it — but still do many of the old-school techniques they've always done, with the exception of tossing tires because it's too hard on Pavlik's back.
"Right now, I'm feeling great," Pavlik said. "The snap is back and everything's fine.
"We know we have to be impressive because we're on the road back."