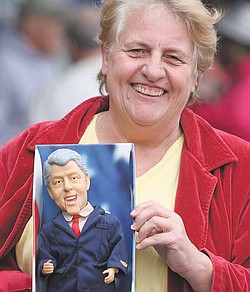 Photo
Sue Watson of Rogers shows off her dancing-and-singing Bill Clinton doll as she waits outside the Mahoning County Democratic Party headquarters in Youngstown for free tickets to a Saturday breakfast gathering with the former president.
By DAVID SKOLNICK
skolnick@vindy.com
YOUNGSTOWN
Former President Bill Clinton left the White House in January 2001, but nearly a decade later, he is a popular figure with Mahoning Valley Democrats.
About 300 people lined up Tuesday outside Mahoning County Democratic Party headquarters, 3321 Mahoning Ave., for the chance to get free tickets to Saturday's breakfast with the former president.
The doors didn't open till 10 a.m., but the first people in line showed up
between 5 and 5:30 a.m. to make sure they received tickets.
"I've never had the privilege to see him," said Leah Sabo of Austintown, the first person in line. "I'm thrilled to have an opportunity to see President Clinton."
Rose Halligan of Lisbon, the third person in line, said: "I'd come out at any time for Bill Clinton. He was one of the best presidents ever. He was for the
people — and still is."
Sue Watson of Rogers, No. 4 in line, said of Clinton: "I love him. I really do. I think he's for the people and always has been. I said that one day I'd meet Mr. Clinton, but I never thought it would happen."
Clinton is the most popular political
figure in the Democratic-dominated Mahoning Valley, said Paul Sracic, chairman of Youngstown State University's political-science department, and Bill Binning, former head of the department.
"He's the best man to bring to the
Valley for the Democrats," Binning said. "They like Clinton here."
Sracic said Clinton is popular in the Valley "because he's very good with blue-collar voters. Bill Clinton is the best politician in the country."
Sracic said Clinton is "so skillful at connecting with voters. He knows how to adjust to his crowd. The problem with President [Barack] Obama or other candidates is they speak at an audience and [Clinton] speaks with an audience."
Clinton will speak at the Mahoning County Democratic Party's pre-Election Day breakfast between 9:30 and 11 a.m. Saturday at Mr. Anthony's on South Avenue in Boardman.
Clinton is expected to arrive at 10 a.m., deliver a brief speech, and then make campaign stops in Massillon and Columbus later Saturday. Those with tickets to Mr. Anthony's should arrive by 8:30 a.m. Also, except for small purses, no bags are permitted inside.
While Clinton will urge voters to support all Democrats, he'll focus on Gov. Ted Strickland at the Boardman breakfast. Strickland and Yvette McGee Brown, his lieutenant governor running mate, will be at the event.
About 350 free tickets were available Tuesday at Democratic headquarters. They were gone in about 45 minutes. About 100 people who waited for the tickets left without them.
"I'm not mad; I'm just very disappointed," said Terry Logorda of Youngstown, who was among those who waited for tickets but didn't get any. "It's not fair. I'm a diehard Democrat."
Mr. Anthony's holds about 1,100 to 1,200.
Most of the tickets were given to Democratic officeholders and candidates as well as precinct committee members and campaign volunteers. More tickets may be available Friday if some of those given out before Tuesday's public distribution are returned to Democratic headquarters.
"If I had it at a venue to hold 3,000, we'd have 3,000 in attendance," said Mahoning County Democratic Party Chairman David Betras. "But with the inclement weather, we can't do it outside. Bill Clinton has huge star power."
Sracic said Clinton's popularity in the Valley is "ironic" because the former president "championed" the North American Free Trade Agreement (NAFTA), which many local labor officials say damaged the local economy.
"They forgive him and overlook many of" his decisions, Binning added. "The Clinton years were peace and prosperity. You remember the good things, and the bad things disappear."
Clinton also will campaign Thursday morning in Erie, Pa., at that city's international airport's hangar 1, for freshman U.S. Rep. Kathy Dahlkemper of Erie, Pa., D-3rd. Polls show Dahlkemper trailing Mike Kelly of Butler, Pa., her Republican challenger. That district includes a portion of Mercer County.
The venue can hold 350 to 400 people with admission on a first-come, first-served basis. The doors open at
9 a.m.
On Saturday, U.S. House Minority Leader John Boehner, who'll likely be speaker of the House if Republicans gain control of that legislative body, will campaign at 3 p.m. at the Spread Eagle Tavern in Hanoverton for Bill Johnson, the Republican nominee in the 6th Congressional District.
The race between Johnson and U.S. Rep. Charlie Wilson, the Democratic incumbent, is considered too close to call.
"We intend to give this rally our all and hopefully charge everybody up enough to push Bill Johnson across the finish line on Election Day," said Columbiana County Republican Chairman Dave Johnson, who owns the Spread Eagle.