Cheerleading uniforms become pillows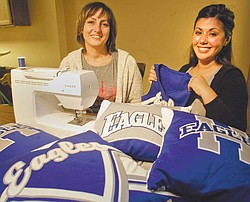 Photo
Sharon Sikora, left, mother of Alyssa Sikora, a Hubbard High School cheerleader, and Stephanie Barca, Hubbard head cheerleading coach, show off pillows fashioned from old cheerleading uniforms. Barca said she got the idea from a similar project done years ago. Sikora is using her sewing skills to make the pillows that are being sold as a fundraiser.
By LINDA M. LINONIS
HUBBARD
Stephanie Barca, head Hubbard cheerleading coach, understands what wearing the uniform means to the girls. It's a symbol of school pride and personal achievement.
She also knows how hard it is for cheerleaders to turn in their uniforms when their cheering days are over.
That's because Barca has been in a similar position: She's a 2001 graduate of Hubbard High School and a former majorette.
As cheerleading coach, she couldn't bear discarding old uniforms even though they had seen better days.
So, she resurrected an idea from more than a decade ago. She remembered that old band uniforms had been turned into pillows and sold as a fundraiser.
Barca decided to try it with 10-year-old cheerleading uniforms. She enlisted the sewing skills of Sharon Sikora of Hubbard Township. Sharon and her husband, Mickey, Campbell High School football coach, are the parents of 16-year-old Alyssa, a junior and varsity cheerleader, and John, 18, a senior.
The two women knew each other from the cheerleading connection and because Alyssa takes dance lessons at J&J Dance Depot, where Barca teaches.
Because the uniforms are different sizes, so are the pillows. They are in three sizes, all nice accent pillows.
"It took me about four hours to figure out the first one," Sikora said. Now, each pillow takes about two hours to assemble.
She added that making the pillows just "takes a lot of patience."
But since it benefits the cheerleaders, Sikora said it's worth it.
Each pillow is unique. The front of the pillow features the jersey from the cheerleader uniform; the body liner is the pillow cover; and the back is the uniform's skirt.
"None are the same. It just turns out like that," Sikora said of her handiwork.
She has a sewing area set up in her basement, where the family's golden retriever, Ruby, keeps her company as she sews.
Since September, Sikora said she has made about 20 pillows, and cheerleader boosters have sold about 13 so far.
Both women said they expected sales to increase as family and friends order the pillows as Christmas gifts and remembrances for cheerleaders.
All the pillows feature the royal blue, gray and white of the cheerleading uniforms, but the Eagles or "H" logos differ.
Barca said the pillows are displayed at home varsity football games. The next display will be at 7 p.m. Friday, senior night.
The price of a pillow is $25. Barca said those interested in ordering a pillow can fill out a form there or call Hubbard High and leave a message for her. The display also will be set up during basketball season.
The funds will go toward new uniforms as they are needed and other supplies. Each uniform, Barca said, costs about $200. Nine new uniforms were bought this summer. Expenditures go through school administration.
The 46-member cheerleading squad includes girls in seventh through 12th grades. They are divided into seventh and eighth grades, freshmen, junior varsity and varsity. Barca said some try out to cheer for both football and basketball, while others do one or the other.
Both women said they liked the idea of recycling the old uniforms and preserving a piece of the school's past in this fashionable way.