Cardinal Mooney High girls soccer surge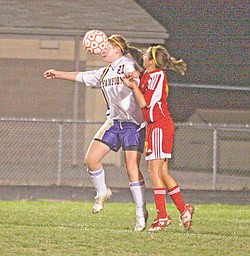 Photo
(20) Megan Harkins of Champion gets a face full of ball as (13) Andrea Ryhal plays defense during their game Monday night.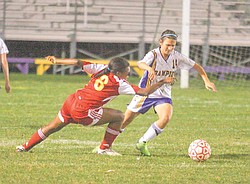 Photo
(14) Jenn Termine of Champion gets past (8) Lindsey Parkins during their game Monday night.
By Doug Chapin
CHAMPION
The 2010 season for the Cardinal Mooney High girls soccer team has two distinct parts to it. Through Sept. 18 the Cardinals were 1-5-1 including a 0-0 tie at Champion High on Sept. 15.
Since that slow start, Mooney is 10-1-1. The Cardinals extended their season at least one more game with a 2-0 victory Monday night over Champion in a Division II district semifinal.
On Thursday, the Cardinals (11-6-2) will face Lakeview in the district championship game, a rematch of last year's title game won 1-0 by Lakeview.
"It was kind of like a realization that we kind of needed to step it up," junior forward Amy Vinopal said about the Cardinals' midseason turnaround. "At first, we played all of our D-I opponents, so we were getting beat."
Junior defender Katherine Herberger added, "We also started coming together as a team, we put our heart into it."
Vinopal scored both goals for Mooney, giving her 20 on the season. The first came with 33:54 on the first-half clock when she came open right in front of the goal about 15 yards out and fired the ball past Champion keeper Taylor Petersal who had nine saves.
The second was scored at 26:34 of the second half and was set up by Lindsay Parkins.
The sophomore forward carried the ball down the left side, drawing the Champion defense, then slid the ball to Vinopal for a 1-on-1 situation with Petersal.
"Last time we played, we came at them defensively and it was a 0-0 tie," Mooney coach Frank Sikich said.
"This time we took the attack to them in the first half. That's why we put a lot of our strength up top, Amy and Lindsey. Their speed up top had to make Champion drop some people back."
The Cardinals also did a solid job defensively against Marissa Walker, who came into the game with 30 goals scored for the Flashes (14-3-2).
Herberger and fellow defenders Emily Groubert, Andrea Ryhal, Hannah Balogh and Christine Habbe, along with goal keeper Rachael Letcher (12 saves), made things difficult for Walker, who did get a couple of decent chances.
"We wanted to push her to her left foot, she is predominately a right-footed player," Sikich said.
"At the beginning of the game we were jumping in too soon and that's why she was getting around some of our players. In the second half the idea was just to contain her and push here to her left foot. We didn't jump in as much and forced her to make passes out wide."
Champion coach Dan Houle said his senior scoring ace has dealt with extra defenders throughout the season, during which the Flashes won the All-American Conference Blue Division with an 8-0 record.
"Marissa gets doubled up everywhere she goes and she knows that's going to happen," he said. "I thought tonight she was trying too much to distribute the ball.
"I wish she had taken them on a lot quicker, but she was looking for the pass which kind of held her up a little bit. We put her at midfield for a while so she could get the ball and just take it up."
After four consecutive seasons as district champion, the Mooney program did not advance to the regional in 2009 following the loss to Lakeview.
The Cardinals, thanks to their midseason turnaround, now have a chance to avenge that defeat.