Ursuline defeats Mooney in rivalry showdown
By TOM WILLIAMS
williams@vindy.com
YOUNGSTOWN
Two bone-rattling tackles helped turn a tight contest between defending state champions into a blowout.
Cardinal Mooney Vs. Ursuline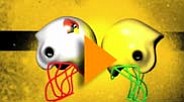 Video
With Mooney leading 7-6 in the third quarter, the Cardinals lost defensive lineman Chris DeChellis and linebacker Pat McGlone to injuries. After Akise Teague's 5-yard touchdown put Ursuline ahead for good, the Irish tacked on four touchdowns in the fourth quarter for a 44-7 victory on Friday at Stambaugh Stadium.
Read the story in Saturday's Vindicator.