Cards oust Spartans in soccer thriller
Boardman vs Canfield boys soccer.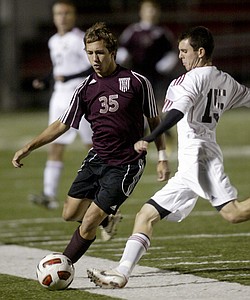 Gallery
Boardman vs Canfield boys soccer.
Cards oust Spartans in thriller
Canfield
In his 10 years with Canfield High boys soccer, Phil Simone has coached the Cardinals to 101 victories.
Before Thursday's game against Boardman, Simone's teams have never played in or won a shootout.
The Division I sectional championship game ended in a shootout. The Cards came out ahead 4-3 in the best-of-five 12-yard kicks to post a 3-2 overtime win over the Spartans.
Canfield's Jon Hutnyan was the last man standing between a win and an extended period of shootouts when he drilled a shot into the right side of the net past Boardman keeper Chris Tokarsky.
The top-seeded Cards (15-2) advanced to a district semifinal game Monday at home against Uniontown Lake.
"Whew!" Simone said. "I hate to see anyone lose in a shootout situation like that. We knew it would be a tough game when we saw the draw come out.
"That's my first time in my ten years of coaching that we've been in a shootout but we've been working on this situation everyday for the last two weeks and tonight it paid off."
Hutnyan said that he's practiced these shots everyday, but he never imagined the pressure he faced as he stared down Boardman's keeper with the game on the line.
"I felt confident that I could do," Hutnyan said. "I felt like I was out there all by myself even though I could hear everyone yelling and cheering in the back of my mind.
"I just tried to pick my spot and placed it right there."
Hutnyan's kick ended an epic battle between two teams that knew each other well and battled to a 1-0 Canfield victory in the regular season.
"It was back and forth all night," Boardman's coach Ahmet Olgun said. "They got one and we got one in the kicks and in the regular session. It was a fantastic job by both teams and it was exactly how we thought the game would be."
It looked like there would be no need for any extra play as Canfield held a 2-1 lead in the last five minutes of regulation and seemingly was in control of the contest.
But a ball control error gave the Spartans the ball in Canfield's territory and Boardman (8-7-3) took advantage of the opportunity.
Matt Horvatich gained control of the ball and found Zaire Morrison open on the left side of the field.
The junior raced down the sideline and kicked a left-footed shot past Canfield keeper Mike Thomas to tie the game at 2-2 with 3:16 remaining.
The team's didn't score the rest of regulation nor in the two 15-minute sudden death overtime periods although Boardman had the momentum and outshot Canfield 7-4 in those 30 minutes.
"Talk about pressure," said Thomas who fought off those seven shots in overtime and kept Boardman shots out of the net twice in the shootout.
"It's something that you can't prepare for even though you practice against it all the time."
Boardman's two misses actually sailed over the top of the goal.
The Spartan got shootout goals from Morrison, Christian Sylvestri and Horvatich, while Canfield's goals were made by Patrick Stickle, Julian Fusillo, Gianni Donofrio and Hutnyan.