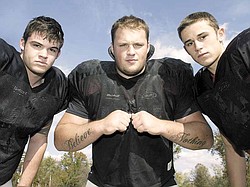 Photo
Howland returning defensive players are Andy Davis, Cody Reesman and Kenny Pozega.
Team

| Record | Div. | Conf. |
| --- | --- | --- |
| 6/4 | Div. III | All-American Conference Red Tier |
By Jon Moffett
jmoffett@vindy.com
Howland
It's been said that defense wins championships.
And while the Tigers of Howland High hope that's the case, for now they'll just settle for winning games — which is exactly what the team has been doing all season with the help of a stifling defensive unit.
The undefeated Tigers have a defense that could possibly make Mike Singletary and his teammates on the 1985 Chicago Bears proud. The unit has given up just 68 points all season. That's good for about 8.5 point per game.
Oh, and they've also shutout their opponent four times. Three of those games were within the All-American Conference's Red Tier.
Still not impressed?
How about this fact: the Tigers (8-0, 4-0) return only three defensive starters from last year's team.
And all of those defensive starters are relegated to that side of the ball only.
"Coming into the offseason, we only had the three guys returning on defense, and several returners on offense," defensive coordinator Eric Ungaro said. "So we had to work hard and juggle some positions around to get to where we want to be. But we have a strong tradition of defense here."
This year's version might be the strongest in a while.
Anchoring the defense are two seniors and one junior — the only players from last year's version. Mammoth nose tackle Cody Reesman, inside linebacker Andy Davis and cornerback Kenny Pozega. And it's unfair to talk about an anchor without bringing up Reesman first.
Reesman has the thankless job of nose tackle in the 3-4 scheme, which features three down linemen and four linebackers. His job is to occupy space and suck up offensive linemen while his teammates reap the benefits.
Reesman played as one of the ends on the defensive line last year and was named with all-conference honors and second team All-Ohio. But graduation forced the 6-foot-1, 280 pounder inside. And Reesman said he is fine with just getting in the way this year as long as it results in wins.
"We practice to be the best defense," Reesman said. "When we know that we can shutout a team and kind of take over and control them and do what we want to do, that's the best feeling."
Ungaro said having players like Reesman, Davis and Pozega makes his job easier. You can teach technique and fundamentals — which is what the Tigers emphasize —but you can't teach experience.
"These guys know what is expected of them," Ungaro said. "They've been a big help so far. We kind of came under the radar though. These guys have worked have and busted their butts.
"Believe me, they're all talented; they just weren't returners. I've been doing this for 21 years, and you still need players. And we had players. We just needed to plug them in where we thought they needed to go."
Three of those positions were easy. The other eight came with some tweaking and adjusting. And so far, it has paid off.
Pozega leads the team with five interceptions. Davis leads in total tackles with 75. And Reesman — the same guy who is stuck in the middle and forced to let other make plays — leads the team in tackles for loss. He's second in sacks with six.
"Being a senior, and a returning starter, I have more understanding of the game," Davis said. "Our coaches lay everything out for us and put us in the right positions. We just have to do what we're told."
Reesman said the Tigers are fortunate to have some of the best coaches in the area on his side of the ball.
"Every coach we have on defense, we have the best in Trumbull County," he said. "That's why we're so good. We have a lot of experienced coaches and we just have to listen to them."
Pozega is the No. 1 cornerback for the Tigers. And as such, he is responsible for covering the other team's best wide receiver.
He said the coaching has put him in position to make plays and succeed. Especially secondary coach Mike Echols, who played as a defensive back in the NFL.
"It's fun to play in this defense," Pozega said. "We blitz a lot, we have so many different coverages and our coaches put us in the right places. Coach Echols, when he talks, you listen."
Ungaro said having a staff such as Howland's makes everyone's job easier. From head coach Dick Angle, strength and conditioning coach Dom Menendez, defensive line coach Jeff Bayuk and linebackers coach and defensive call signaler Eric Moore, Ungaro said the group has a bevy of experience and makes it easy for the players and coaches to be cohesive.
And the favorite thing of those coaches is the basics of the game.
"I think one thing we are obsessed with here, because the game has gotten so tricky and cute with formations and all of that kind of thing, is just pursuit and tackling," Ungaro said. "Twice a week, that's all we do. We won't even go over plays or formations or anything.
"We just run to the ball, do tackling stations. And it all radiates from coach Angle."
The goals are simple every week: win and let the rest take care of itself. The shutouts are just the icing on the cake.
"Anytime a team is getting shutout, they are going to do anything they can to score," Reesman said. "But that shutout means something to us."
Said Davis, "I hate when guys score on us."
Ungaro said it takes a special group of players, and a special unit as a whole, to take over a game so forcefully. The most points the team has given up this year is 22 in a week three victory over area powerhouse Warren Harding.
If there was a statement win for the team this year that may have been it. But that statement is what Ungaro has been preaching all year.
"I think No. 1, these guys are disgustingly unselfish," Ungaro said.