---
Thursday, October 21, 2010
Dead Baby Halloween Display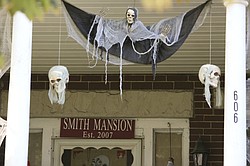 Gallery
DEAD BABY HALLOWEEN DISPLAY Halloween displays on front lawns tend to be macabre; after all, it's the nature of Halloween. A display of maimed baby dolls on North Main Street, however, has aroused the anger of some residents to the point that the city's zoning inspector has asked the homeowner to take the display down. That's not going to happen, according to Krista Smith, the homeowner. "They're taking this as baby specific and it's not," said Smith, 34, a stay-at-home mother with two school-age children. "This is just baby dolls like in (horror) movies and has nothing to do with real babies. "It's not meant to offend. It's meant to be entertaining," Smith said.
By Jordan Cohen
NILES
A controversial Halloween display of disfigured dolls on North Main Street drew more than two dozen supporters and opponents Wednesday afternoon to an orderly demonstration.
Supporters appeared to outnumber protesters, however.
None of the opponents carried signs, and most admitted that their protest could not force homeowner Krista Smith to remove the display.
"Without the city able to do anything, there's nothing we can do," said Carrie Moore, 32, of Niles.
The protesters used words as "disgusting," "twisted" and "demented" in describing the display of dolls that were hung by the neck from a tree, charred and painted to appear bloodstained or dismembered.
"I worked in day care, and this has to be hard on mothers who lost children," said Noreen Husk, 54, of McDonald.
"It's way over the line, said Carol Tigert of Niles. "Little kids should not have to see this."
Smith, the mother of two, ages 8 and 9, said, however, her children and their friends are neither shocked nor upset by the Halloween display that includes a crib of disfigured dolls with the sign "After Death Dollcare."
What Smith said surprises her most is the reaction.
"I actually think it's overblown when you consider all the things people should be concerned about," she said.
More than 14 people, including friends and family, sat on her porch in support of Smith. One of them was her next-door neighbor, Darien Warner, 14.
"I know Krista would never do anything to offend anyone," said the Niles McKinley High School freshman. "It's in the spirit of Halloween."
One of the protest organizers, Tracy Greene of Niles, said she tried to call it off after receiving a threatening phone call from a blocked telephone number.
"They said they would teach us about Halloween and see how we like being covered in blood," Greene said. "I don't want to put anyone in harm's way just to make a point."
Smith said she was sorry to hear about the threat.
"She has every right to protest just as I have for my Halloween display," Smith said.
Greene did not attend the protest but appeared before city council Wednesday evening to complain.
"You need to have something on the books," she told council. "You should be able to do something."
Mayor Ralph Infante said he would have liked to have issued a citation against Smith, but the city's nuisance ordinance does not apply.
The mayor told Law Director Terry Dull to check other possibilities; however, Dull conceded after the meeting that a legal basis for a citation is unlikely.
"I'd be surprised if I find anything," Dull said.