5th-graders learn from write stuff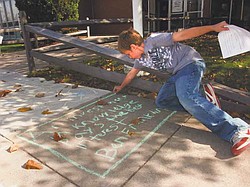 Photo
Fifth-grader Tyler Heitman outlines a quote by Benjamin Franklin on the sidewalk outside Frank Ohl Intermediate School, Austintown. Tyler was one of 400 fifth-graders at the school who participated Wednesday in National Day on Writing by chalking their favorite quotes.
Austintown
Fifth-grader Lexi Stubbs didn't have to look far to find her favorite quote. "It was on a poster in our classroom," the 10-year-old Frank Ohl intermediate student said.
On Wednesday, about 400 fifth-graders from Frank Ohl Intermediate School participated in daylong National Day on Writing events by scrawling their favorite quotes in sidewalk chalk outside the school.
"In the book of life, the answers aren't in the back," read Lexi's quote, once uttered by Charlie Brown.
The National Day on Writing was started by the National Council of Teachers of English. This is the second year Frank Ohl has participated in the event thanks to fifth-grade language-arts teacher Donna Polak.
Monday afternoon, Susan Ausmann's class took to the sidewalks for their turn.
"They love it," Ausmann said. "They were so excited because as fourth-graders, they saw the fifth-graders do it."
Ausmann was thankful for the good weather, which allowed for a pleasant outing and assured that rain wouldn't soon wash the quotes away.
Tyler Heitman chose a quote from Benjamin Franklin that read: "An investment in knowledge pays the best interest."
"I think he's saying, 'Do your best and don't give up,'" Tyler, 10, said.
Tyler chose to quote Franklin for a few reasons.
"I did a project on him, and he's really smart," he said. "Plus he did a couple inventions, too."
Among the chalkings were several familiar quotes: "When life gives you lemons, make lemonade," and the famous Nike ad "Just do it."
Ten-year-old Nakima Olverson chose a quote that read: "Don't let your happenings destroy your happiness."
"When you're sad about something, but it happened in your past, don't let it destroy your happiness," Nakima said. "Like if you're going to Chuck E. Cheese's or something."