6th-District race for Congress pits Wilson against three newcomers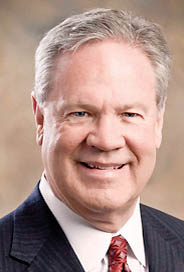 Photo
There are four candidates running for the 6th Congressional District seat. An (*) denotes the incumbent.
CHARLIE WILSON* (D)
Age: 67
Home: 125 E. Lawn St., St. Clairsville.
Education: A graduate of the Cincinnati College of Mortuary Science; a bachelor's degree in general studies from Ohio University.
Employment: A congressman.
Family: Four sons.
Priority: To help the nation's economy get back on track by helping to create new jobs and protect the ones we have.
BILL JOHNSON (R)
Age: 55
Home: 3755 Hunters Hill, Poland.
Education: A master of science degree in computer science from the Georgia Institute of Technology, a bachelor of science degree in computer science from Troy University in Alabama.
Employment: Chief information officer for Stoneridge Inc.
Family: Wife, LeeAnn; two sons and two daughters.
Priority: Create jobs, spur small-business growth and innovation, curb government spending and lower taxes.
RICHARD E. CADLE (Constitution)
Age: 56
Home: 11975 Blott Road, North Jackson.
Education: Attended DeVry University.
Employment: Retired information technology director of the Cadle Co., a computer business.
Family: Wife, Lynette; one daughter.
Priority: To enable our businesses to grow and create jobs.
MARTIN J. ELSASS (Libertarian)
Age: 36
Home: 1708 Columbiana-Lisbon Road, Columbiana.
Education: An associate degree from Universal Technical Institute in Phoenix; a Crestview High School graduate.
Employment: Owner of Indie-Mafia Records in Columbiana and Nashville, Tenn.
Family: Single.
Priority: To be available to the district's constituents, to listen to their concerns and act in their best interests.
YOUNGSTOWN
U.S. Rep. Charlie Wilson, seeking re-election to his third term in the House, describes himself as a fiscal conservative whose voting record reflects the 6th Congressional District.
Bill Johnson of Poland, his Republican opponent, contends Wilson, of St. Clairsville, a Democrat, is just the opposite.
"Every time [President] Barack Obama and [Speaker of the House] Nancy Pelosi tell him how to vote, he votes for it," Johnson said.
Johnson points to Wilson's votes on the stimulus package, the health-care plan and approving budgets that increase the national debt.
Wilson calls the health- care plan "a good first step" but says it "isn't perfect."
Wilson said he's not in lock-step with the party, pointing to his vote against the cap-and-trade climate bill that was approved by the House but stalled in the Senate.
Wilson said he received a lot of pressure from Democrats, including Pelosi, to vote for cap-and-trade but made it clear he wasn't going to support it.
Polls indicate this is going to be a tough year for Democrats.
It's even tougher in districts such as Ohio's 6th, which went for Republican John McCain in the 2008 presidential race.
The 12-county district that stretches for about 350 miles along the state's eastern border includes all of Columbiana County and about half of Mahoning.
Most national political handicappers have this race as "leans Democrat." But it was only a few months ago that they had this race as "likely Democrat" or "safe Democrat."
"I'm optimistic I'll win," Wilson said.
So is Johnson.
"The people [in the district] are simply concerned about the economy, about the out-of-control spending in Washington, about the loss of jobs, about higher unemployment," Johnson said.
As of Sept. 30, Wilson had raised $796,340.50 and spent $389,407.61 on his re-election bid. He had $691,294.09 left in his campaign account as of Sept. 30. Wilson had carried over money from previous campaigns.
Johnson had raised $470,007.96 and spent $240,684.60, leaving his campaign with $229,323.36 as of Sept. 30.
Also running for this seat are Libertarian Martin J. Elsass of Columbiana and Richard E. Cadle of North Jackson, a Constitution Party candidate.
Neither had raised the minimum $5,000 that would require them to file campaign expense reports with the Federal Election Commission.
Elsass and Cadle say they're running to give a choice to voters.
"I am tired of flipping a coin in the voting both," Elsass said. "I'm tired of choosing between the lesser of two evils. The two parties do not represent the people; they represent those who give them the most money."
Cadle said: "I hope to appeal to dissatisfied Democrats and Republicans who are not satisfied with their party's candidates and policies. I especially hope to encourage the independents and those who have given up on voting that this year their vote can change the direction our country takes."