Springfield turns it up to advance in Division II tournament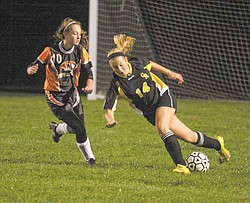 Photo
(14) Anna Hardenbrook of Crestview tries to keep the ball from (10) Alyssa Casto during their game Monday night in New Middletown.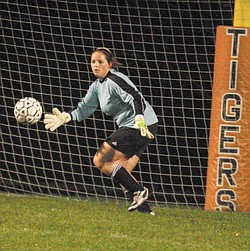 Photo
Goalie Ayla McGath of Crestview makes a save Monday night in New Middletown.
NEW MIDDLETOWN
Defense was the message that both Springfield and Crestview girls soccer coaches preached to their teams prior to a Division II sectional matchup Monday night.
That strategy resulted in a scoreless first half before Springfield scored two second half goals by Hailey Sullivan to overtake the Rebels 2-0.
The sixth-seeded Tigers (9-7-1) advanced to take on Cardinal Mooney on Thursday night.
"I thought we played real well tonight," said Springfield coach Bob Rohrman. "We've been preaching the last month-and-a-half to take care of the defense and everything else will take care of itself.
"We really played well on the defensive end tonight."
The Tigers limited Crestview (4-10-3) to just three shots in the first half while Springfield tried to get its offense untracked.
In the second half, Sullivan said it was time to get things going.
"We lost our best mid-fielder (Andrea Zubick) to injury last game and we were kind of nervous that our offense would suffer some this game," Sullivan said. "Yeah, I kind of felt like I had to get the offense going but I trust our goalie a lot."
Trust or not, Sullivan went to work in the second half after missing at least three shots in the first 40 minutes.
With just under eight minutes gone in the second half, Sullivan took a perfect centering pass from Kristin Evans and knocked the ball past a diving Ayla McGath to put the Tigers ahead.
"Kristin crossed the ball really well and their goalie missed it," Sullivan said of the game winning goal. "The ball came right to me and I was able to knock it in the net."
Springfield's insurance goal came with just 4:49 left in the game as the Tigers attacked the goal once again with Evans in control.
Evans kicked the ball in toward the center of the front line where it bounced off of Sara Gabrick and then a Rebel defender and into the path of Sullivan who had an open shot.
No assist was given on the play but the team effort by Sullivan, Evans and Gabrick sealed the win.
Crestview, who has struggled this year and dropped two regular season games to Springfield, was determined to sit back in a six-player defensive back line and make the Tigers work.
"We just wanted to keep the game close early and we know they have a lot of attackers," said Crestview coach Shawn Magill. "We thought if we could keep it close we would have a chance to pull it out at the end."
That defensive style kept the Rebels within striking distance but offensively Crestview couldn't do much with Springfield's defense and goalkeeper Jill Tabaka.
Tabaka, didn't have to much to do in the net as the Tigers defense limited Crestview to just four shots on goal.
"We've really stepped it up defensively," said Rohrman. "We will have our work cut out for us on Thursday [against Cardinal Mooney].
"I imagine we'll play a lot of defense much like Crestview did to us tonight."
Sullivan said the Tigers are ready for the challenge against the Cards who recently defeated Springfield 2-0.
"We have revenge on our minds," said the young sophomore mid-fielder. "We'll have to be ready but I think we can play better than we did the first time against them."