County urged to defund chamber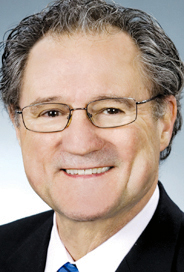 Photo
Rep. Robert F. Hagan, D-Youngstown. (AP Photo/Larry Phillips)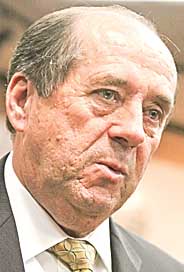 Photo
Humphries should resign, Hagan says
By Elise Franco
Youngstown
State Rep. Robert Hagan is the latest to question the Youngstown-Warren Regional Chamber's ability to be politically unbiased.
In a letter to the Mahoning County commissioners and county administrator Friday, Hagan, of Youngstown, D-60th, pressed the commissioners office to stop funding the chamber for further economic-development projects.
This letter comes a little more than one week after David Betras, Mahoning County Democratic Party chairman, and Bruce Zoldan, chief executive officer for B.J. Alan Co., withdrew their memberships and support for the local chamber because chamber President Tom Humphries co-hosted a fundraising event for John Kasich, Republican candidate for governor.
"There is no integrity in allowing the primary business-advocacy institution in our county to use public dollars in a quest for partisan political supremacy," Hagan said in the letter. "The Chamber's excessive partisan activity this cycle has raised sobering concerns as to whether or not they are able to bring serious and realized economic benefits and business resources to our communities in an unbiased manner."
Hagan told The Vindicator he expects the commissioners to take his letter seriously and act on it accordingly.
"I'm expecting them to tell me exactly how much money is spent on the chamber [for county economic development purposes]. ... I'm expecting them to withhold those funds and get a commitment that [the chamber] is not going to get involved in politics like that again."
Commissioners David Ludt, Anthony Traficanti and John McNally didn't return calls to comment Friday evening.
It's not just the local level that Hagan has concerns about, however.
"I'm deeply disturbed about the chamber, from the national to the state to the local level, and their involvement in politics," he said. "We tried desperately to work in a bipartisan way at the state and local level.
"Using money that could be construed as economic-development dollars to push their candidate is wrong."
Hagan said the chamber needs to do two things to regain its reputation as a credible economic developer.
"They have to make amends by getting rid of Tom Humphries by asking for his resignation," he said. "They need to work with public officials. ... Bring us back in and say, 'Somebody made a mistake, and we're not going to make that mistake again.'"