Ridge rallies to remain undefeated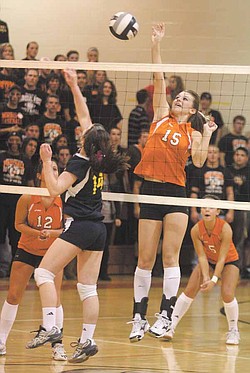 Photo
Mineral Ridge's Meghan Garland (15) prepares to return a ball sent over the net by United' Rachel Sell (14) during Thursday's game at Mineral Ridge High School.
By Jim Flick
MINERAL RIDGE
With a perfect season in jeopardy, the Mineral Ridge volleyball team rallied on Thursday to capture a hard-fought fifth set to defeat United.
Trailing 11-12 in the fifth set, the Rams (22-0) scored four straight points as Mineral Ridge won by scores of 18-25, 25-17, 25-22, 25-27 and 15-12.
"Ah, the sweet smell of success," Mineral Ridge coach Jennifer Staunton said. "In an undefeated season, that last game is the toughest. The pressure kind of builds. It was a great way to end a season, but after tonight we're 0-0."
The Rams are the Inter Tri-County League Tier One champions with a 14-0 record and will open tournament play next Thursday at the LaBrae district event.
United finishes 16-6, 11-3.
"Obviously, we're a little disappointed because we started hot, but came out short," United coach Troy Brunner said.
In fact, the Golden Eagles dominated the first set, winning 25-18.
United sophomore Mollie Phillis set the stage by serving an ace that gave the Golden Eagles a 24-18 lead. The clincher came after her next serve.
Mineral Ridge responded with a stronger effort in the second match, opening a 7-0 lead with junior Lea Whitmer serving. United never came within striking distance in the set, which ended when Rams senior Megan Ben spiked the ball for a 25-17 victory.
The Rams and Eagles exchanged leads in the third set before Mineral Ridge senior Katie Fife slammed the ball to give the Rams a 24-22 lead. Whitmer blocked a shot for the win.
Neither team let up in the fourth set, battling to a 25-25 tie. United junior Taylor Smith's slam gave her team a 26-25 lead. The Eagles then blocked a shot to win the set 27-25.
United scored the first point in the 15-point fifth set, but neither team was able to pull away. The Golden Eagles took a 12-11 lead and seemed poised for victory.
Ben and Fife recorded slams to put the Rams ahead, and junior Abbey Riffee served an ace for the win.
"It was our game to win," Staunton said, explaining that her players "were a little afraid to swing at the ball" in the fourth set.
Fife was a key in the late stages of the contest, according to Staunton.
"She's our go-to girl, our big hitter," Staunton said after Fife recorded 31 kills, 21 blocks and nine points.
Ben was credited with 16 kills and 28 digs while Whitmore had 39 assists, 19 points and two aces. Riffee made 40 digs, scored 11 points and served three aces.
For United, Ruth Prosko was credited with 14 kills, 10 digs and three blocks while Taylor Smith recorded 14 kills and 16 digs. Rachel Sell had 36 assists, three aces and 21 digs while Phillis racked up 12 kills and serve four aces.
An undefeated regular season was not what Staunton anticipated after the team's performance in a tournament last summer.
"We looked like the Bad New Bears," she said, laughing.
But by the end of the camp, she realized "they had potential."