Honor your oath of secrecy, Oakhill grand jurors told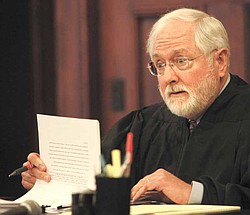 Photo
Visiting Judge William H. Wolff Jr.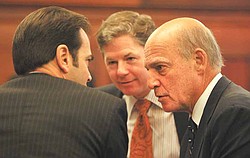 Photo
George A. Stamboulidis, left, back to camera, lawyer for Anthony M. Cafaro Sr.; John F. McCaffrey, center, lawyer for the Ohio Valley Mall Co. and the Marion Plaza Inc.; and Martin G. Weinberg, another Cafaro lawyer, huddle at the Thursday hearing in Mahoning County Common Pleas Court. Visiting Judge Wolff summoned grand jurors to the courthouse, where he admonished them to keep their oath of secrecy to avoid breaches.
YOUNGSTOWN
A visiting judge overseeing the Oakhill Renaissance Place case reminded grand jurors they must adhere to their secrecy oaths.
On just over two hours' notice, Judge William H. Wolff Jr. had the nine grand jurors summoned Thursday afternoon to the Mahoning County Courthouse, where he delivered the reminder. That session was behind closed doors, but recorded by a court stenographer.
The visiting judge is hearing the case of an alleged criminal conspiracy between some Mahoning County officials and the Cafaro Co. to prevent or delay the move of the county's Department of Job and Family Services to Oakhill.
About a dozen defense and prosecuting attorneys attended a 45-minute hearing in open court Thursday. That hearing was in response to a motion by Cafaro Co. lawyers seeking court action to address what they said appeared to be violations of grand-jury secrecy.
The alleged breaches occurred in an anonymous letter to Vindicator Columnist Bertram de Souza from someone claiming to have been an Oakhill grand juror and from Vindy.com postings.
The Cafaro lawyers say these breaches generate additional pretrial publicity, which threatens the defendants' right to a fair trial.
Atty. Martin G. Weinberg of Boston, who represents Anthony M. Cafaro Sr., said he sought "to prevent future breaches of grand jury secrecy." Weinberg said he believes one grand juror actually wrote the letter, and another wrote the web postings.
The web postings "repeatedly breached grand jury secrecy," Weinberg said.
The anonymous letter, Weinberg said, "is a separate stand-alone breach of grand jury secrecy."
Weinberg said the special Oakhill prosecutors informed him the author of the web postings told Detective Gary Snyder of the Mahoning County Sheriff's Department that he (the web poster) was not the author of the anonymous letter.
"We simply can't allow breaches of grand jury secrecy to go unrectified and uninvestigated and simply run the risk of their being repeated and re-echoed," Weinberg said.
"We have an unfortunate and problematic expression by a grand juror. That's conceded. We understand that," said David P. Muhek, a special Oakhill prosecutor from Lorain County.
Muhek added, however, "There was no evidence released. There was no testimony released. There was an expression of opinion. We don't believe that rises to the level of a matter coming before the grand jury that is subject to this oath of secrecy."
Muhek suggested the best remedy was for Judge Wolff to instruct grand jurors not to discuss the case publicly.
The eight defendants charged with conspiracy and other offenses are Cafaro Sr., former president of the Cafaro Co.; the Cafaro Co. and two of its affiliates, the Ohio Valley Mall Co. and the Marion Plaza Inc., county Commissioner John A. McNally IV; county Auditor Michael V. Sciortino; former county Treasurer John B. Reardon; and John Zachariah, former county JFS director.
JFS moved to Oakhill in 2007 from Cafaro Co.-owned rented quarters on the city's East Side. Oakhill, which the county bought in 2006, is the former Forum Health Southside Medical Center.
Two other defendants, Flora Cafaro, part-owner of the Cafaro Co. and sister of Anthony M. Cafaro Sr., and Atty. Martin Yavorcik, are charged only with money-laundering in connection with a concealed gift of $15,000 investigators allege she gave to Yavorcik's unsuccessful 2008 campaign for county prosecutor.
The grand jury returned its 73-count indictment in the Oakhill case July 28.