Hugs, pride greet Reservists back from Afghanistan
Marines Return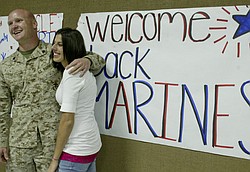 Gallery
Marine Reservists returning from Afghanistan were greeted by family and friends at the Youngstown Air Reserve Station in Vienna, Oh. Oct. 14, 2010.
By Jordan Cohen
VIENNA
Seven area Marine reservists returned home from seven months of combat-support duty in Afghanistan with smiles lighting up the night.
"It feels amazing," said Cpl. Nick Marchese, 23, of Niles as he and his fellow Marines emerged from two vans that had driven them Thursday evening to the Youngstown Air Reserve Station here, where they were met by families and friends.
Marchese said his service in Afghanistan marked his second deployment. He previously served in Iraq.
"Now I just want to take time off, relax and readjust," Marchese said as his family and girlfriend hugged him and as his father spoke of his pride in his son's military service.
The Marines, members of the 4th Landing Support Equipment Company, were deployed in Afghanistan's Helmand Province, an area described as volatile. Their support consisted of loading essential supplies and delivering them to military outposts.
"That terrain is unforgiving," said 1st Sgt. Eric Bauer, a veteran of previous deployments who is stationed in Vienna. "They had to watch out for improvised explosive devices on the roads."
Another one of the returning servicemen, Sgt. Robert Eggleston, 23, of Struthers, said neither he nor the others care to discuss their experiences. "That's not something we really want to talk about especially now," said Eggleston who is a veteran of deployments in Afghanistan and Iraq.
"This is my last [deployment]," Eggleston added. "I just want to lie on the couch, enjoy myself and get back to firefighting." Eggleston is a volunteer firefighter in Coitsville Township.
"It's so hard for me to explain my feelings right now," he said as his 22-year old girlfriend Patty Ryser of Hubbard held his arm. "I haven't seen my family in 10 months."
Ryser said she was simply relieved he had returned safely.
That was true for all seven Marines. Bauer said they had suffered no casualties during their deployment.
Before the their arrival, Bauer met with the families to provide tips on how to ease their transition to civilian life. "Communication is the key," he advised. "Go slowly and take time to become reacquainted."
Most of the Marines had volunteered to go to Afghanistan, and Bauer said there are others in the 100-member unit, who have expressed interest in deployment.
"They just want to do their duty," the sergeant said. "That's part of being a Marine."