Industry, feds stop business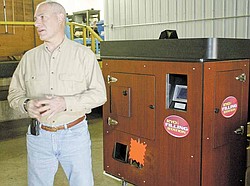 Photo
Phil Accordino, owner of RYO Machine Rentals, stands near an RYO Filling Station at the companyÕs manufacturing facility in Girard. RYO has stopped production after a recent federal ruling banned the use of the machines in retail tobacco stores..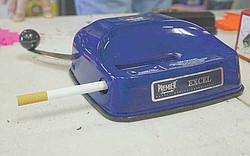 Photo
Cheap Tobacco specializes in roll-your-own cigarette products and tools like this manual-rolling machine. Rising cigarette prices, and the economic downturn, have driven many smokers to roll their own cigarettes. .
By Grace Wyler
GIRARD
A local company has taken the tobacco market by storm with a machine that gives a technological upgrade to the timeless art of cigarette rolling.
But the State Street manufacturer, RYO Machine Rental, has come up against a formidable pair of opponents: federal regulators and Big Tobacco.
RYO, short for "roll-your-own," has had explosive growth in its two-year existence. The company has about 200 machines at tobacco shops in 30 states, up from 10 machines in 2008. The company recently expanded its workforce to 30 to meet growing demand.
"It just took off," said owner Phil Accordino. "We recognized a niche and it just exploded."
But production at RYO's facility came to a halt last month when federal tobacco regulators ruled it illegal for a retailer to have an RYO machine without a manufacturers' permit.
The RYO Filling Stations automate the cigarette-rolling process, producing 200 cigarettes in 10 to 20 minutes, eliminating the need for the consumer to insert tobacco into each individual cigarette.
The longtime owner of Cheap Tobacco, a Girard tobacco retailer that specializes in roll-your-own cigarettes, Accordino noted a rising demand for his products as cigarette prices increased.
"Roll-your-own was our niche, so we started looking for better ways to do that," Accordino said. The machine "is not a particularly innovative technology. We just borrowed from other concepts to make it more convenient and user-friendly."
Tobacco companies and industry regulators have cried foul, arguing that retailers with an RYO machine are actually manufacturing cigarettes and should be subject to the same permitting rules and taxes that apply to cigarette manufacturers.
Accordino takes issue with the characterization, likening RYO machines to a supermarket coffee-bean grinder that allows customers to grind beans in-store, rather than using personal grinders or buying packaged ground beans. "The slowest manufacturing machine on the market makes 2,500 cigarettes a minute," he said. "Our machine can make maybe 10."
Accordino sees the company as a scapegoat for an argument that rolling tobacco companies and retailers are taking advantage of a federal-tax loophole by substituting pipe tobacco for traditional cigarette tobacco. A 2009 federal-tax increase on rolled tobacco products increased the tax on cigarette-cut tobacco from $1.10 per pound to $23.68 per pound. The tax on pipe tobacco went from $1.10 to $1.73. The RYO machine is made for cigarette tobacco but it can use pipe tobacco.
As a result, a carton of 200 cigarettes produced by an RYO machine is about half the cost of a carton of manufactured cigarettes. "The big tobacco companies already saw roll-your-own cigarettes as a threat to their market share," Accordino said. "So in a way we were too successful."
On Sept. 30, the federal Alcohol and Tobacco Tax bureau ruled that retailers with RYO machines are commercially manufacturing cigarettes. The ruling, which effectively bans RYO machines, states that the "personal-use exception" that allows consumers to make alcoholic beverages or cigarettes for private consumption does not apply to cigarettes made by the RYO machine — "as it is the machine that manufactures the cigarettes, not the consumer."
The decision has brought the company to a standstill. The factory is now empty, its 30 workers furloughed while the company determines how best to appeal.
"The big cigarette companies are very, very powerful," Accordino said. "And this is not a politically correct business — it's easy to get vilified."
Accordino projects that the end of production at RYO will result in an overall loss of 304 jobs in Ohio, as the company's suppliers cut employees taken on to meet RYO's growth demands.
"I am not going to sit here and say I am saving humanity," he said. "But those were jobs and money that were staying in Ohio."