7 Marines return home after Afghanistan deployment
Marines Return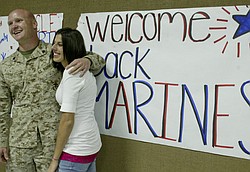 Gallery
Marine Reservists returning from Afghanistan were greeted by family and friends at the Youngstown Air Reserve Station in Vienna, Oh. Oct. 14, 2010.
VIENNA — Seven area Marine reservists returned home from seven months of combat support duty in Afghanistan, their smiles lighting up the night.
"It's feels amazing," said Cpl. Nick Marchese, 23, of Niles as he and his fellow Marines emerged from two vans that had driven them this evening to the Youngstown Air Reserve Station here, where they were met by families and friends.
Marchese said his service in Afghanistan marked his second deployment. He previously served in Iraq.
"Now I just want to take time off, relax and readjust," Marchese said as his family and girlfriend hugged him as his father spoke of his pride in his son's military service.

The Marines, members of the 4th Landing Support Equipment Company, were deployed in Afghanistan's Helmand Province, an area described as volatile. Their support consisted of loading essential supplies and delivering them to military outposts.
For the complete story, see Friday's Vindicator and Vindy.com
More like this from vindy.com