Canfield holds off tough Springfield volleyball squad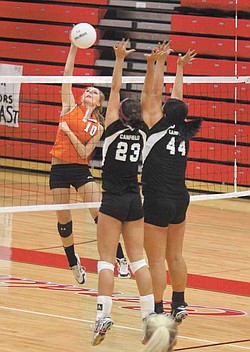 Photo
VOLLEYBALL - (10) Kylie Kohler of Springfield spikes the ball as (23) Hannah Milstead and (44) Mary-Kate Andrews go for the block Monday night. - Special to The Vindicator/Nick Mays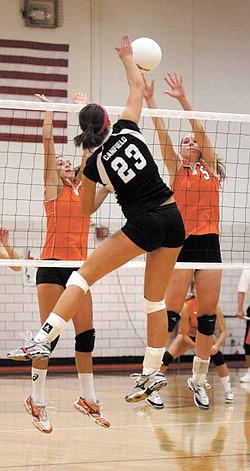 Photo
VOLLEYBALL - (23) Hannah Milstead of Canfield spikes the ball as (7) Katie Kennedy and (5) Larissa Santangelo go for the block Monday night. - Special to The Vindicator/Nick Mays
CANFIELD
Canfield's Abby Malsch has worked her way back from a knee injury this season to become a mainstay for the Cardinals' volleyball team.
The junior led the Cards (13-6) with 15 kills, seven points and four aces, and dominated Springfield in Game 3 of a 3-1 win over the Tigers on "Senior Night."
Canfield held off the Tigers 25-27, 27-25, 25-8, 25-23 in a non-conference match that was a major tuneup for both teams as they ready for postseason play.
"She's a player," said Canfield coach Ronnie Haurin about Malsch. "She's come back from an injury and is really playing well lately. She's one reason we were able to take over this match tonight."
Malsch didn't like that her team struggled in the first game loss to Springfield and were trailing by five points, 19-14, in game two.
The Cards called timeout and Haurin made some changes on the offensive sets that eventually turned the tide for Canfield.
Malsch and teammates Hannah Milstead, Holly Rolla and senior Mary-Kate Andrews took away Springfield's early strong net play and began to dominate the net themselves with some fierce hitting.
Ellie Rafoth set up many of those hits with her 22 assists.
"We all started working together late in that second game," said Milstead, who had seven kills and five blocks mostly from her middle position. "We picked each other up and started playing like we know how.
"We started out sluggish. I think we were tired but we definitely picked it up."
The match changed for Canfield in the third game when Malsch had a run where she played a role in five of of the Cards' seven points as Canfield opened up a a 15-2 lead.
"I was feeling good in game three," Malsch said. "I came out more confident after we made the comeback in game two and our whole team played with a lot more confidence after that."
The Cards went on to win that game 25-8 to open up a 2-1 lead.
Canfield closed out the stubborn Tigers (12-6) in the final game but not before Springfield made several runs to try to force a game five.
The fourth game was back-and-forth for the first 15 points before Canfield ran off four straight points to open up a 19-15 lead.
Springfield battled back to force a tie at 19-19 and the teams traded points until Canfield ran off the final two points with the game tied at 23-23.
Sophomore Sabrina Mangapora blasted one of her 12 kills to end the match.
"I'm proud of my kids," said Springfield coach Bill Knight. "We played well for most of the night against a strong Division I team."
The Tigers are a Division III team.
Springfield started out well and the team lost focus in game three, according to Knight.
"I'm looking at the scores and how we were in each game except game three and I can't help to be pleased," Knight said. "There were a few miss hits and some line calls that if they went a different way we might have pulled this out."