Kasich fires more salvos during Valley fundraiser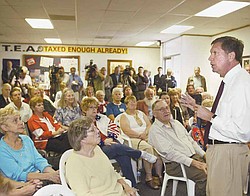 Photo
John Kasich, the Republican nominee for governor, spoke to fellow Republicans at the Mahoning County GOP headquarters in Boardman. Kasich told the crowd that "it's a nasty time in American politics."
BOARDMAN
The state government has to "stop being sloppy and lazy, and we've got to be focused," said John Kasich, the Republican gubernatorial nominee.
When asked Monday by The Vindicator who he specifically meant, Kasich said: "The state and the leadership of the state. The people that work in the government are too slow."
Kasich spoke to the media after speaking at a rally at Mahoning County Republican Party headquarters in Boardman and before attending a fund-raising event for his campaign at the Warren home of businessman Sam Covelli.
Kasich criticized Gov. Ted Strickland, a Democrat, for failing to move Ohio forward.
"Stop making excuses for why we keep failing and accept personal responsibility," Kasich said of Strickland.
When asked what Strickland policies would be among the first to go if he's elected next month, Kasich said, "I don't have two hours to answer that question."
Responding for the Strickland campaign, state Sen. Joe Schiavoni of Canfield, D-33rd, said: "That's typical of the whole campaign Kasich is running. People want some facts. He just rails on Strickland. That's not an answer to the question."
Kasich also declined to say which programs he would cut with the state expecting a significant financial shortfall.
"We don't know what the revenues are, so it's impossible to run a program without" that knowledge, he said.
But Kasich, a former congressman, pointed out that he's "written 13 budgets in my lifetime, and the crown jewel was the 1997 [federal] balanced-budget amendment."
Schiavoni said he understands Kasich's not mentioning specific cuts because the budget shortfall is "uncertain. But he could at least give ideas on fixing the budget."
Kasich was well received by the Republican crowd at party headquarters.
"It's a nasty time in American politics," he said. "Trash as much as you can our Republican candidates. I see it wherever I go. We are a party that has ideas now. The reason why we're being trashed is when you associate with a group that's lost almost 400,000 jobs, you don't want anybody talking about your record."
Kasich also said that if Democrats win in November, "they'll raise taxes."
The goal should be to make government more efficient and effective, and reduce taxes, Kasich said.
Outside Republican headquarters, a group of local Democrats had a protest rally against Kasich.