Williams targeted to be US auto czar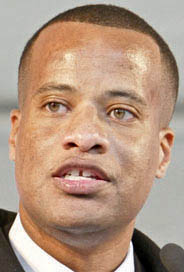 Photo
Youngstown Mayor Jay Williams
Youngstown mayor discusses position with the White House
YOUNGSTOWN
Mayor Jay Williams confirms he's been contacted by the White House about becoming the nation's auto czar.
"At this point, I agreed to hear them out," Williams told The Vindicator on Saturday.
When asked if he was considering the job, Williams declined to comment. But he added: "Perhaps I'll have additional comments next week."
Williams, a Democrat serving his second four-year term as mayor, has been a frequent visitor to the White House lobbying President Barack Obama's administration for federal funding for the area and to share his thoughts on urban economic and quality-of-life issues.
Williams met Thursday with White House officials to discuss the vacant auto-czar position, officially called the director of recovery for auto communities and workers.
It is not known whether the White House is considering other candidates.
Ed Montgomery resigned from the position in June to be Georgetown University's dean of public policy. Obama appointed Montgomery to the job in March 2009 to help the auto industry get back on its feet. The federal government loaned billions of dollars to General Motors and Chrysler to keep those two U.S. auto companies in business.
The auto czar's responsibilities include providing stimulus funds and other federal money to assist displaced auto workers with job retraining and to communities that largely depend on the industry as a key component of their economy.
Williams was re-elected last year to his second term as Youngstown mayor. The city charter permits mayors to serve no more than two consecutive four-year terms.
If Williams is offered the federal job and takes it, the city charter calls for the president of city council to automatically fill the remainder of the mayor's term. Charles Sammarone, a Democrat, is currently the president of council. Williams' term expires Dec. 31, 2013.