St. Dom's pastor explains plans to fight back
St. Dominic's Neighborhood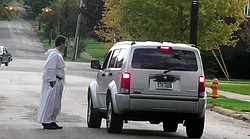 Video
Father Gregory Maturi, pastor of St.Dominic's Catholic Church in Youngstown, OH, has plans to revitalize the neighborhood where two of his parishioners have been murdered this year.
By Ashley Luthern
aluthern@vindy.com
YOUNGSTOWN
A man in a sport utility vehicle waved down the Rev. Gregory Maturi as he walked along Lucius Avenue. The car stopped in the middle of the street, and Maturi approached the driver's side window, which had been lowered.
"You're doing a good job, Father," said Jose Nall.
The two men chatted for a few minutes, exchanging handshakes and phone numbers, before Nall pulled away, calling out "I'll pray for you."
This has become an everyday occurrence for Father Maturi, who walks the neighborhoods surrounding his parish, St. Dominic Church.
He has been leading efforts to combat violence in the city. Two members of his congregation, Angeline Fimognari and Thomas Repchic, were murdered this year.
"This is a war zone and it's an emergency situation. This is gangland," the priest said.
In response to the violence and Father Maturi's suggestions, Youngstown Mayor Jay Williams has pledged that 27 vacant houses on Lucius and Auburndale avenues and Southern Boulevard, near the church, will be demolished by year's end in what he calls "Operation Redemption."
Some South Side residents are not impressed.
"I think it shows the unconcern. I think it shows willy-nillyness," said Ken Stanislaw, who lives on the southeast part of the city. "I expected more of [Williams]. It comes to push and shove; two people have to be killed before he starts tearing down houses. Where was the plan?"
Williams said that Operation Redemption is not a start, but a continuation of the city's overall plan to tear down vacant houses that are often havens for criminals.
"We've torn down approximately 2,000 homes and tried to do it in a focused and strategical method," Williams said. "This is just a continuation, and an additional focus, of a longstanding commitment to strengthening neighborhoods in every ward. This happens to come into sharper focus because of the unfortunate violence around the folks at St. Dominic's."
The mayor said on average it costs $2,500 to $3,000 to demolish a vacant home, but depending on the property, it could go up to $7,000.
Delores Womack, who has lived on Boston Avenue for 17 years, said 27 houses "won't make a difference" because half of the houses in her precinct in the 6th Ward are empty.
"This is years of neglect," she said. "I'd like to see the city green up our area, not just demolish, but landscape them so we as residents can keep them cut."
Williams said that contractors are required to grade and seed the lot as part of the house demolition.
"A vacant lot is not ideal, but it's better than a dilapidated house," he said. "What I'm most pleased and excited about is the work done in conjunction with block watches and neighborhood associations."
Williams and Father Maturi both admit that tearing down 25 houses in that neighborhood is just a start.
"Operation Redemption is two-fold. There's the demolition and improving the aesthetics, and then the heavy, aggressive law- enforcement side of it. The specifics of that will be announced in a week or two," he said.
He also said that Operation Redemption on the South Side will be used to target all parts of the city, so that no residents are excluded.
As for Father Maturi, he will be in Youngstown for a total of six years and then given another assignment, which is a regular part of being a Dominican priest.
"I'm here for five more years, and I want to do all the good I can in that short time," he said.
"I'm aware of my surroundings and realize the more public I am, the more of a target I become. I do what I do, and let the pieces fall where they may."