Howland escapes in final minutes
Team

| Record | Div. | Conf. |
| --- | --- | --- |
| 6/4 | Div. III | All-American Conference Red Tier |
2010 Howland 20 - Poland 18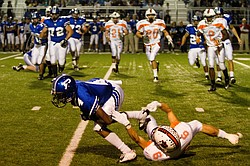 Gallery
Team

| Record | Div. | Conf. |
| --- | --- | --- |
| 8/3 | Div. III | All-American Conference Red Tier |
By Joe Scalzo
POLAND
With 90 seconds left in one of those weird games where both teams made more than enough plays to win — and lose — Poland coach Mark Brungard called timeout to make the type of decision that can decide a season.
His team was facing a fourth-and-3 at the Howland 24. Brungard had a choice between putting the ball in the hands of junior quarterback Colin Reardon, who found his groove in the fourth quarter, or sophomore kicker Connor McFadden who had the leg and the pedigree to make a game-winning 41-yard field goal, but lacked the experience.
He chose the latter.
"There were 101 options being thrown at me," Brungard said afterward. "I felt like Connor McFadden certainly has the leg and we believe in him to do that."
McFadden, the son of former YSU and NFL kicker Paul McFadden, got pressure up the middle on his attempt and the kick went wide left, giving the Tigers a 20-18 victory Friday and clearing a path to their fourth straight league title and first outright crown since winning the Metro Athletic Conference in 2007.
"I think it's a good call," said Howland coach Dick Angle of the field goal. "He's a strong kicker, I've seen him put the ball in the end zone.
"I would have done the same. I'm just glad he didn't make it."
Sophomore running back De'Veon Smith ran 25 times for 148 yards and a touchdown for the Tigers (7-0, 3-0), who overcame a rough night from their special teams by wearing down the Bulldogs with their big offensive line.
"We're like Mike Tyson — we're heavyweight fighters," Angle said. "Our offense line goes out and when we're not moving people, we're moving body parts."
Howland gave up an 84-yard kickoff return to Dom Patton late in the first quarter, just seconds after snapping the ball over its punter's head for a safety. The Tigers also dropped a punt snap, resulting in a 12-yard loss, and committed a crucial roughing the punter penalty that allowed Poland to cut the deficit to two with 10 minutes left.
And yet ...
"If you're gonna be a good football team, you have to win and escape the games you don't play well in," said Angle. "We're disappointed in our special teams, but god bless our kicker [Chris McClearn]. He kept making field goals."
McClearn made field goals of 26 and 39 yards and was 2 of 2 on PATs for Howland, which can clinch the All-American Conference Red Tier crown by beating Niles on Friday.
Junior DB Domenic Termine opened the scoring by making one of the game's biggest plays — almost by accident. Midway through the first quarter, Reardon tried to hit Darius Patton on a wide receiver screen to the left, but Tony Osborne tipped it and the side judge immediately ruled it a lateral.
Thinking it was incomplete, Patton gave up on the play but Termine picked it, hesitated a moment, then took off for a 92-yard touchdown.
"I didn't hear a whistle, so I just ran as fast as I could toward the end zone," he said. "I think it was a surprise [to Poland]. I don't think they expected it to be a live ball."
Reardon completed 15 of 26 passes for 164 yards and Darius Patton caught nine passes for 103 yards for the Bulldogs (4-3, 1-1). John Medina added 87 yards on 17 carries with a TD.
"We always say when we play Howland, there's always five or six plays [that swing the game]," said Brungard. "There were a lot of them tonight."
The missed field goal was one of them. But it wasn't necessarily the biggest, he said.
"In no way am I going to look at that play alone and say [the game came down to] that," Brungard said.