Smoky Hollow revitalization plan taking shape

Photo
Martha Morgan, project manager at Wick Neighbors Inc., looks over Harrison Common, the first project in an overall plan to revitalize Youngstown's Smoky Hollow neighborhood.
Smoky Hollow revitalization plan taking shape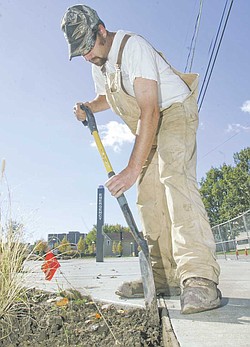 Photo
Brad Day, an employee of Tipton Landscaping of Salem, works in Harrison Common.
By Denise Dick
YOUNGSTOWN
For years, the city's Smoky Hollow neighborhood bustled with residents — men headed to factory jobs, mothers shopping and children playing on ballfields.
But like much of the city, the neighborhood declined as people moved out. Several years ago, Wick Neighbors Inc. embarked on a plan to revitalize the neighborhood.
Progress moved slowly at first as organizers formed partnerships and pursued funding, but now there's a piece they can point to, showing the project is more than just a dream.
A brick-paved plaza adorned with plantings and pieces of sandstone to be used as benches sits on Walnut Street, across from the Youngstown State University parking deck. Harrison Common is on the site of the former Harrison Field, where children's baseball leagues battled on the fields.
Installation of a pergola funded by the Youngstown Rotary, an old-style pizza oven and an herb garden also are part of phase one of the Harrison Common project.
"The idea is that people could come and have cookouts," said Martha Morgan, project manager at Wick Neighbors.
Plat maps showing how the neighborhood was mapped out will be installed in the park, and old photographs highlighting its history also are planned.
Not all of the park's features are new, though.
"We kept the linden tree," Morgan said. "It's such a beautiful tree, and it's probably about 75 years old."
The overall neighborhood plan calls for housing, but the park is a start.
"It's only phase one, but it's a beginning," said David Vaughan, Wick Neighbors executive director.
Phase two of Harrison Common calls for work where the ballfields stood. Teams from YSU are expected to use the fields while the university relocates its facilities. After that, some paths may be installed, but the area will remain mostly natural, Morgan said.
The total plan calls for new streets, sidewalks, curbs and pedestrian pathways, new townhouses, condominiums and homes, commercial and retail space and 10 acres of public green space.
The project has secured $4 million in grants and city assistance to put in new infrastructure to support that development. Engineering for the neighborhood redevelopment project is under way.
"We're cautiously optimistic and hoping for construction to start late next year," Vaughan said.
The down economy has affected Wick Neighbors just like most of the rest of the country, but Vaughan is hopeful.
"I think the university partnership is showing some signs of life, and I think that will help considerably with further development," he said.
YSU owns most of the land in Smoky Hollow, said Scott R. Schulick, chairman of the university trustees who also serves on the board of Wick Neighbors. The university received the $396,000 grant from the Ohio Department of Natural Resources that funded the Harrison Common work. Wick Neighbors did the work in securing the grant, Schulick said.
Smoky Hollow's revitalization was spearheaded by Wick Neighbors and David Sweet, former YSU president. The revitalization is in university's interest, too, Schulick acknowledged.
YSU employees will maintain the lawn within the park.