Malpractice suit seeks $15M-$20M from doctor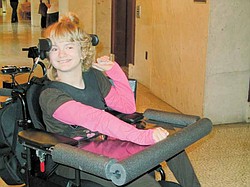 Photo
Haley Cobb, 10, of Leavittsburg, takes a break outside of the courtroom of Judge W. Wyatt McKay in Trumbull County Common Pleas Court. Her parents sued the doctor who delivered her in January 2000 for medical malpractice, saying the doctor's failure to suggest Haley be delivered by Caesarean section caused the child's cerebral palsy.
By ED RUNYAN
WARREN
The attorney for the family of Haley Cobb, 10, of Leavittsburg said the failure of a Cortland doctor to advise Haley's parents that the girl needed to be born by cesarean section was one of the reasons Haley was born with cerebral palsy.
Atty. Michael Djordjevic of Akron asked the jury during his opening statement in Trumbull County Common Pleas Court to award Haley's family $15 million to $20 million to pay the cost to care for the girl throughout her life.
Djordjevic spoke at the start of a medical- malpractice trial Monday before Judge W. Wyatt McKay.
An attorney for defendant Dr. Tara A. Shipman, who delivered the baby, said experts will testify, conversely, that Haley was "living with too little oxygen" for "weeks if not months" before her mother arrived at Forum Health Trumbull Memorial Hospital to deliver the baby.
Defense counsel, Atty. Joseph A. Farchione of Cleveland, said the brain damage occurred before Haley's mother, Debra Cobb, went to the hospital Jan. 3, 2000. He said lesions in the placenta — which provides a baby's oxygen — are responsible for Haley's permanent handicaps.
Djordjevic said the Cobb family has already settled with the estate of Dr. Edmundo B. Salero of Warren, now deceased, the anesthesiologist who Djordjevic said "botched" the resuscitation effort undertaken just after Haley was born.
The family also settled with the hospital's nurses for their role in the failed resuscitation, Djordjevic said. The terms of those settlements were not disclosed.
Haley can't roll over, talk, grab things or eat normal food, Djordjevic said. Her mental abilities are impaired, but she does know the alphabet and can count to 50, he said.
"She's a prisoner in a body that doesn't work," Djordjevic said of the girl, who sat in a motorized wheelchair near her parents in the back of the courtroom during Djordjevic's remarks.
Djordjevic noted that Debbie Cobb was one of Dr. Shipman's first patients after Dr. Shipman completed her medical training and residency and that Dr. Shipman did not yet have enough experience to be board-certified.
Experts will testify, Djordjevic said, that Dr. Shipman deviated from the medical "standard of care" in a couple of ways the night and morning Haley was born, especially in not suggesting a C-section birth instead of a vaginal one.
Farchione said Haley's birth is an example of the "reality" that even when the mother "does everything she is supposed to" and the doctor does "everything she can do within her power and within her knowledge, you can still have an unexpected, bad outcome, and that's what happened."