Biden endorses Strickland, chats with residents, raises funds
Joe Biden Visits Valley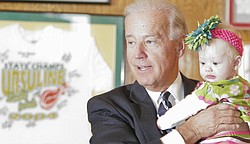 Gallery
Vice President Joe Biden stopped in the Valley today to campaign for Ohio Gov. Ted Strickland. He stopped at the Golden Dawn in Youngstown and Astro Shapes in Struthers.
By DAVID SKOLNICK
STRUTHERS
Vice President Joe Biden touted Gov. Ted Strickland, a fellow Democrat, as a "strong leader," with a proven track record who "understands what needs to be done" to move Ohio forward.
Biden spent Monday in the Mahoning Valley stumping for Strickland, who is running for re-election. Most polls show Strickland in a tight race with ex-U.S. Rep. John Kasich, a Republican.
Biden spoke for about 35 minutes at Astro Shapes, an aluminum extrusions plant in Struthers, to about 500 people.
Among those in the audience was Kristi Schuck of Newton Falls, who moved here in June from New Orleans after getting married.
Schuck is struggling to find a job, working sporadically in the mental-health field.
"Biden seemed passionate and I'm going to trust him and vote for Strickland," she said after the rally. "This gives me optimism for the future."
As for why she attended the rally, Schuck said, "I thought I wouldn't have the chance to see a vice president, and since I'm not working, I had free time."
Mitch Stevens, who works as a painter at Astro Shapes, said he was proud to have Biden speak at his place of work.
Biden "gives you hope. He gives you something to look forward to in the future," Stevens said. "Even if just a little bit of what he says happens, that would be great. You want to see everyone working hard and everyone wanting to make things better. It just takes time."
Biden said the choice for governor comes down to Strickland who's "been a real fighter for the middle class who has a vision" and Kasich who wants to return the nation "to the exact economic policies that got us into trouble."
Though he praised Strickland during the speech, Biden spent most of it talking about the President Barack Obama administration.
The administration is beginning "to turn things around, but it's not enough," Biden said.
"People are angry, and I'm angry," Biden said. Too many people are being pushed out of the middle class, and too few are allowed in, he said.
Struthers Mayor Terry Stocker, who spoke to Biden, said the vice president is "real personable and down to earth."
Stocker, a Democrat, said he thanked Biden for Struthers receiving $8.2 million in federal stimulus money.
Mahoning County Commissioner Anthony Traficanti, a Democrat, said Biden's "speech certainly summed up what people are feeling in the country. For a vice president to come to the city of Struthers speaks volumes for how important this area is for Democrats."
In a prepared statement, Ryan Tronovitch, Republican National Committee spokesman, said: "With over 149,000 jobs lost in Ohio since passage of the failed $814 billion stimulus that Gov. Strickland endorsed, Ohioans don't need more staged events and broken promises from the Obama Administration," he said.He also pointed out that the state's unemployment rate is at 10.1 percent.
U.S. Rep. Tim Ryan of Niles, D-17th, said Valley voters would "be crazy" to vote for Kasich over Strickland because the Democratic governor has worked hard to improve the local economy.
Before the Astro Shapes speech, Biden and Strickland met with six invited guests at the Golden Dawn Restaurant on Youngstown's North Side.
Biden was more than 30 minutes late to the Astro Shapes event because he spoke so long to the invited guests and others at the Golden Dawn, according to those who were there.
After the speech, Biden attended a fundraiser for Strickland at the Canfield home of Bruce and Rori Zoldan where he again discussed Ohio jobs and the need to retain Strickland as governor.
At the Zoldans', Biden said he knows Ohioans, and all Americans, are angry over drastic job losses, but Strickland has worked hard to bring nearly 400,000 back to Ohio.
"They're angry, and I'm angry when I look back on policies that brought us to this point," Biden said. "I look across the board at what the governor was left with, and what we were hit by. It was really like a gut-punch."
Biden said he took drives around the state with Strickland at the beginning of his vice presidency, where the governor pointed out old, closed-down businesses.
"He'd say, 'This used to be ...,' and now he's saying, 'This is ...' or 'This is going to be ...,'" Biden said. "I don't know anybody who could have done a better job than he has done."
Vindicator reporter Elise Franco contributed to this story.