250 appeal, pray for end to city violence
Related: • Mayor vows to raze 25 houses near St. Dom
Community Prayer Vigil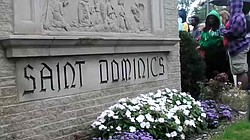 Video
More than 250 people attended a community prayer vigil at St.Dominic Catholic Church in Youngstown, OH.
Community Prayer Vigil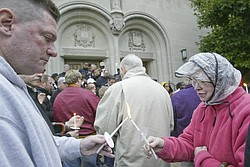 Gallery
More than 250 people attended a community prayer vigil Saturday Oct 2, 2010 at St. Dominic Catholic Church in Youngstown, OH.
By DAVID SKOLNICK
skolnick@vindy.com
YOUNGSTOWN
The choice is let the area around St. Dominic Church continue to be a place for crime and lawlessness or do whatever is necessary to revitalize that section of the city.
Church parishioners, concerned citizens, clergymen and politicians joined in a vigil Saturday to say they won't let that section of the city's South Side further deteriorate.
About 250 people stood outside St. Dominic in steady rain, praying and talking about improving the community.
The Rev. Gregory Maturi, St. Dominic's pastor, prayed for a "physical and spiritual transformation."
He prayed for an "end to violence," and for God to "help heal the wounds that violence caused."
Thomas J. Repchic was murdered and his wife, Jacqueline, was seriously injured in a Sept. 25 drive-by shooting shortly after they left St. Dominic.
Saturday's "community prayer vigil" was not only for the Repchics, but for Vivian Martin, a real-estate agent murdered Sept. 20 on the city's East Side and for Angeline Fimognari, murdered in January in St. Dominic's parking lot.
"This is our church and we want to keep crime out of here," said Lisa Mansell, who moved from Youngstown to Struthers four years ago. "We need to clean up the city. This scares a lot of the older people who come here."
The Rev. Michael H. Harrison Sr., pastor of Union Baptist Church and chairman of the Mahoning Valley Organizing Collaborative board, said this is "a moment where we need [God] like we've never needed [him] before. What has been will not be tolerated anymore. Right now, we need justice. We need [God] to sweep the streets."
Sue Vitale of Boardman, who grew up in Youngstown, and Emma Nelson, from the city's South Side, met at Saturday's vigil.
Nelson needed an umbrella as the rainfall became heavy while Vitale needed a light for her prayer candle.
"I love Youngstown and know God will do great things here," Vitale said. "He will show the way against this violence and lack of brotherly love. I believe it is the spirit of murder and destruction that must be stopped."
Nelson said she was at the vigil because of the "senseless" violence.
"God wants us to love each other," she said. "I felt a strong urge to come to this. I hope it will help. God will clean this up. [Those who committed the crimes] "think they're getting away now, but they won't."
Councilwoman Janet Tarpley, D-6th, whose ward includes St. Dominic and the surrounding streets, said: "We need to change the face of this community. We are going to move forward together."
Father Maturi said he and others will "continue the fight for Youngstown. We will revitalize Youngstown. We will return it to its former glory."