VP Biden to stump in Valley Monday
Joe Biden in Warren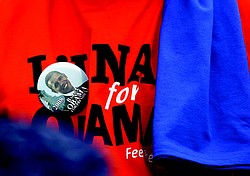 Gallery
Biden In Youngstown

Gallery
Joe Biden speaks in Youngstown Sept. 18, 2008
By DAVID SKOLNICK
YOUNGSTOWN
Looking to help Democratic candidates, particularly Gov. Ted Strickland, Joe Biden will make his first visit Monday to the Mahoning Valley as vice president.
"We're excited to join Vice President Joe Biden on his visit to the Valley," said Lis Smith, communications director of Strickland's campaign.
"Ted has worked with the White House to bring jobs to the area. We've seen that with the expansion of V&M Star and now with the production of the new Chevy Cruze [at the Lordstown General Motors complex]. Ted and the administration have worked hard to bring good jobs to Ohio, especially in the Mahoning Valley area."
Strickland, who is seeking re-election, will travel with Biden, Smith said.
Biden's first stop Monday is to be at a diner in the Youngstown area. The original plan was for it to be the Golden Dawn Restaurant on Youngstown's North Side, but that could change. Biden is supposed to make that first stop around noon.
Biden will definitely stop at Astro Shapes, an aluminum extrusions company in Struthers, for a tour and rally, Smith confirmed.
Though the schedule isn't finalized, Biden is expected to arrive at Astro Shapes about 2 p.m. Monday.
Biden will speak to Astro Shapes employees and invited guests. Tickets may be available to the public to attend the rally.
The vice president will also attend a fundraiser later Monday for Strickland at the home of Bruce and Rori Zoldan on Sugarbush Drive in Canfield, Smith said.
"We're getting the attention that we long deserve," said Mahoning County Democratic Party Chairman David Betras. "I'm very happy the vice president is coming to the area. He's coming to help our governor. We finally have someone [Strickland] responding to our needs. You can see what he's done for us. He cares a lot about the area and he believes in us. Not only does he hear us, he helps us."
But Mahoning County Republican Chairman Mark Munroe isn't impressed.
"The Democrats are desperate; they know they're about to lose Ohio," he said of Biden's visit. "In the end, it's not going to work. The economy of Ohio under Ted Strickland is a mess. Ohio is fundamentally broken."
This will be Biden's first visit to the Valley as vice president.
During the 2008 campaign, Biden made three stops in the area.
He and Barack Obama had breakfast at the Yankee Kitchen in Boardman on Aug. 30, 2008, after spending the night at an Austintown hotel. The two were on their way to Cleveland to attend the funeral of ex-U.S. Rep. Stephanie Tubbs Jones.
Biden had outdoor campaign rallies on Sept. 18, 2008, in downtown Youngstown, and Oct. 14, 2008, in downtown Warren.
Astro Shapes was among a handful of stops then-Democratic presidential candidate John Kerry made on Feb. 24, 2004, during his first campaign visit to the Valley.