Lakeview still unbeaten after beating rival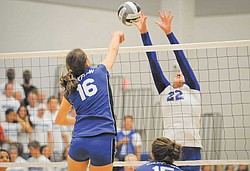 Photo
Lakeview's Marissa Naples (16) and Hubbard's Haley Turner (22) battle for the ball at the net during an All-American Conference White Tier contest Thursday at Hubbard. The Bulldogs defeated the Eagles three games to none to maintain a perfect record.
Lakeview still unbeaten after beating rival
By CHUCK HOUSTEAU
HUBBARD
Lakeview volleyball coach Scott Taylor said this Bulldog team isn't the most talented group that he has coached but it is certainly his best.
The Bulldogs (16-0, 5-0) remained perfect on the season after defeating area volleyball power Hubbard in an All-American Conference White Tier contest in three games, 25-15, 25-20, 25-18, on Thursday night.
"It's great to play a team like Hubbard with it's great tradition," Taylor said. "You know you are going to get a great match from them. It's good to beat them."
Lakeview, who beat Hubbard early in the season in five games, beat the Eagles (10-4, 3-2) in impressive fashion Thursday night.
"It wasn't our night," said Hubbard coach Chuck Montgomery. "Lakeview's an outstanding team and they come at you from all angles. It wasn't one of our better matches.
"We made a lot of defensive errors and passing errors and that's unlike us. We have to play almost a perfect game to beat them."
Lakeview showed why they will be a team to be reckoned with in the postseason as they try to finish up the season unbeaten.
The Bulldogs won with strong passing, plenty of athleticism and a great game at the net.
"The girls play really, really loose and haven't bought into the fact that they are undefeated," said Taylor. "They have fun out there. They are definitely the best chemistry team I've ever had — they're not the most talented — but they play well together.
"Tonight was a great example of that."
Elaine Kelley, who was returning from an injury, led the Bulldogs with 12 points, 11 kills and three aces.
"We just got Kelley back," Taylor said of his 5-foot-11 senior middle hitter. "I'd say she was the difference tonight."
Kelley had plenty of help from setter Becca Calvin and hitters Taylor Davis, Laura Ogram and freshman Marissa Naples.
Davis had seven kills while Naples added six and Ogram four.
"We definitely knew what we were up against and we prepared well and played Lakeview volleyball tonight," Kelley said. "We kept our heads in the game, attacked the nets, passed the ball well because we knew Hubbard was a good team."
Calvin was the catalyst who made things happen for Lakeview on offense. The senior had 25 assists from her setter position and said her job is not only fun but easy because of all the great hitters she can pass to.
"I love to set the ball for my team," Calvin said. "It makes the other team nervous because they don't know who the ball is going to go to and we can usually get a good hit from anyone at the net.
"We learned a lot from the first time we played them and that helped out tonight. We learned who their best hitters were and where they liked the ball and we were able to make adjustments."
The Bulldogs used their experience and height to dominate Hubbard in all three games.
Lakeview got off to quick starts in all three games and were never really threatened.
Montgomery said that his team was too young to handle what Lakeview threw at them but that his team can and still will be a force in the upcoming district tournament.
"We have a young team with sophomores and some first-year juniors," Montgomery said. "We can play much better than we did tonight and our girls have a lot of good volleyball ahead of them."