Cleanup begins on 30,000 tires
East Side Tire Clean-up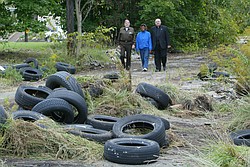 Video
10 years worth of work to clean up several thousand tires on Wilson Ave.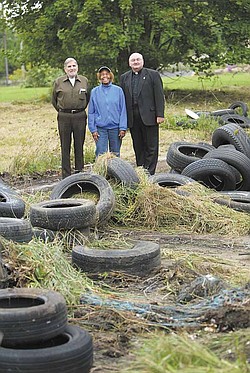 Photo
John Lesnansky, left, Helen Jackson and the Rev. Nicholas Mancini survey tires that will be cleaned up on Wilson Avenue across from St. Stephen of Hungary Church. The former Lewis Auto Body shop has been a popular illegal dumping ground since it closed in the 1970s.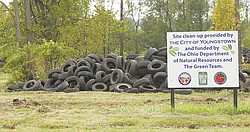 Photo
More than 30,000 tires are piled high in the vacant lot on Wilson Avenue.
Tire recycling
The Mahoning County Green Team will have a tire recycling drive 9 a.m. to 3 p.m. Saturday at the Covelli Centre in downtown Youngstown.
Only ten tires per vehicle will be accepted. The first 10 passenger car tires are free. It costs $1.50 for every one after that.
Tires with rims accepted with an additional $1.50 fee.
Light truck and semi tires accepted with additional fees (fees vary depending on size).
For more information, call Youngstown Litter Control and Recycling at 330-744-7526
By CHRISTINE DARIN
TheNewsOutlet.org
YOUNGSTOWN
The former Lewis Auto Body shop stands guard over a mountain of more than 30,000 tires and other debris on Wilson Avenue across the street from St. Stephen of Hungary Church.
Trees, sumac shrubs and poison ivy have for decades blocked the view of the illegal dump from passing traffic. But a short walk down a cracked asphalt drive leads to small tire piles, and then to a large collection of tires.
Lewis Auto Body closed about 1979. Yet the building and its land have remained a haven for illegal dumping to this day.
But this may be its last day.
Youngstown community groups and the city are taking action to remove the eyesore from the neighborhood with a cleanup scheduled to begin today, according to Jennifer Jones, Youngstown Litter Control and Recycling coordinator.
Jones has been part of an army of Valley agencies — The Green Team, Youngstown City Council, Mahoning Valley Organizing Committee, Ambassadors for Christ, Lien Forward Ohio, the Mahoning County Sheriff's Department and the Ohio Environmental Protection Agency — aligned for this effort.
Jones was initially approached last year about the illegal tire dump by the Ambassadors for Christ, a group of six churches on the East Side. The Ambassadors started the tire- dump project about 10 years ago, when Pastor Roney Tucker was the president.
The Rev. Nicholas Mancini became president last year and took over the project, and came into contact with the MVOC and city officials.
"We suspect small tire shops are dumping in the area because there is such a large quantity of tires," said Jones. "Every time I go out there, more tires are collecting on the property, and it isn't just one or two; more like hundreds."
Jones applied for a Tire Amnesty Grant through the Ohio Department of Natural Resources, and received $20,000 for tire removal. Green Team coordinator Jim Petuch applied for a grant for the same lot and received $16,500.
No person or business owner has been charged with tire dumping at this location. But the Green Team funds two litter enforcement deputies to investigate illegal dumping in the city.
"I don't receive information on the crimes until there is solid evidence," said Petuch.
Now that the process for the removal of the tires is in place, the groups are exploring options for a prevention plan to stop continued dumping on the vacant lot.
"We are looking at maybe surveillance cameras, increased patrols, blocking off areas. Of course the dumpers will just find another spot to dump," said Petuch.
"But the most important thing to do is catch them and nail them, and I mean really nail them so they go to prison for many years. Because these are felonies, and felonies as per the code are serious offenses," he added.
According to Jones, the tire dumping occurs at night because the lot is located in an abandoned business district. This makes it difficult to catch the dumpers and prosecute them.

The idea is to put the land to productive use by turning it into a community area, possibly with some picnic tables or swing sets, said Jones.
"These people have some conscience. They wouldn't dump tires where a swing set that a child will use the next day is located," she said.
The property is broken into about 30 parcels with multiple owners, some of whom are dead, and many owners have abandoned their lots and do not pay their taxes, said Jones.
"The EPA has been working on it for at least four years that I know of," Jones said of the cleanup of the tires. The EPA must send out "notice of violation" letters to the property owners because by law the owners are financially responsible for the tire removal.
Jones said the Ambassadors for Christ will work with Lien Forward to acquire the properties on Wilson Avenue to make it into a community area.
Illegal tire dumps also pose a significant health and safety risk due to mosquito breeding and fires, said Petuch.
Tires are highly flammable because they have a petroleum base. Tire fires can burn for a long time. "You can't just spray them with a hose and expect them to go out," said Petuch. "If the dump on Wilson caught on fire, it could burn for weeks."
"Not only is it a hazard to have these illegal tire dumps, but it is a waste of land. Why have all these tires sitting around, when you could be growing crops or food for citizens in community gardens," said Petuch.
The Youngstown Litter Control and Recycling contracted with Minerva-based Liberty Tire Services of Ohio to remove the tires, and the company offered free labor to demolish the vacant building on the property.
Liberty Tire Services processes and refines the tires into a raw material that is used for rubber mulch, fuel for mills and power plants, paving materials and other products.
The NewsOutlet is a joint media venture by student and professional journalists and is a collaboration of Youngstown State University, WYSU radio and The Vindicator.