Howland rolls past Struthers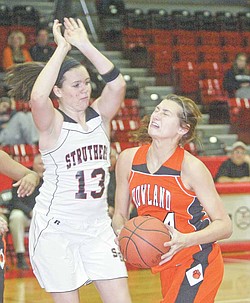 The Vindicator (Youngstown)

Photo
Taylor Williams of Howland drives around Struthers' Hannah Dubec during first quarter action Monday at Struthers.
GAME TIME
Howland vs. Lakeview, Thursday, 7:30 p.m.
Struthers at Canfield, Thursday, 7:30 p.m.
By Pete Mollica
STRUTHERS
Howland's girls basketball team didn't play anywhere near as well as the Tigers did in their season opener on Saturday, but the effort was still good enough to keep them unbeaten.
Monday night the Tigers took advantage of the foul line and recorded an easy 58-38 victory over Struthers here.
Howland (2-0) connected on 24 of 37 free throw attempts and never trailed against the Wildcats, who were opening their season.
"We didn't play anywhere near the game we played on Saturday," said Howland head coach John Diehl, whose team beat Hudson 74-52 on Saturday. "We didn't practice on Sunday and I think the girls were thinking pretty good about themselves. We had way too many turnovers."
"Struthers is a very aggressive team and probably the most aggressive defensive team in our conference."
The Tigers were led by a pair of junior standouts in Erika Nites with 18 points and Taylor Williams with 17. Williams, a 6-2 center, added 14 rebounds.
Both teams turned the ball over often as the Wildcats finished with 23 turnovers and Howland had 20.
"Their defense is so aggressive," Diehl added. "I don't think that we had an uncontested layup shot the entire night. They just won't give you one and they fouled a lot as a result."
That aggressiveness probably hurt the Wildcats in the long run, especially in the second quarter when the Tigers hit on 14-of-20 free throw attempts and pulled into a commanding 34-16 halftime lead.
"It was our first game and there were a lot of first-game jitters out there tonight," said Struthers head coach John Grandy.
"I was pleased with their effort. We got beat by a very good team, a team that played much better than we did tonight, but what I saw of our girls makes me believe that we're going to be pretty good team ourselves."
Besides the turnovers, the Wildcats also didn't have a very good shooting night from the field making just 12 of 60 attempts. They were 7-of-18 from 3-point range.
They also didn't shoot a free throw in the first half and finished just 7-of-12 for the game.
The Wildcats managed to stay with the Tigers throughout most of the first quarter and when senior Marissa Hird connected on a 3-point shot just before the buzzer Struthers had pulled to within 12-7.
But the Wildcats would make only three baskets in the second quarter, although they were all 3-pointers, including two by freshman McKenna Shives, who led the Wildcats with 12 points on four 3-point goals.
Howland on the other hand was sparked by Williams, who scored 10 of her 17 points in the quarter as the Tigers took command of the contest.
Howland built its lead to as much as 24 points in the third quarter before Shives hit two more 3-point shots to cut the margin to 53-33.
There were only two field goals scored in the final quarter, both by the Tigers as both coaches emptied the benches when the game was out of reach.