Despite being born with cerebral palsy, Joe Slanina is one tough kid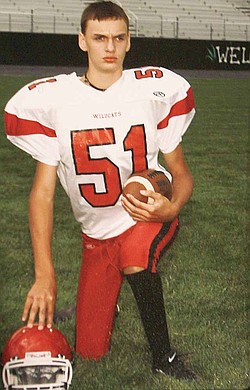 Photo
Joe Slanina's 2009 Struthers High School football photo.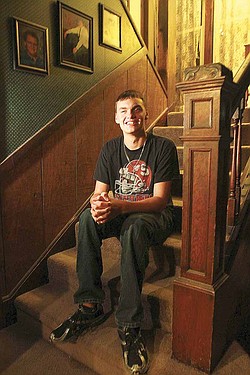 The Vindicator (Youngstown)

Photo
Joe Slanina at his Struther's home on Wednesday afternoon.
By Jon Moffett
STRUTHERS
If you saw Joe Slanina on a football field, you'd think he was just a normal 15-year-old.
But you'd be wrong. There is nothing normal about the Struthers High sophomore. He's extraordinary.
Just ask his mother, Laura, who doubted her two-months-premature son would ever walk, let alone run and block on the football field. Nothing, not even his cerebral palsy, can slow Slanina down.
"I don't know, I guess my attitude is just that I don't want to be treated any differently," he said. "I guess I want to be treated 'normal' — even though nobody is really normal."
Normalcy, Slanina said, is taking things for granted. Normal people don't tend to appreciate the important things: life, health, friends and family.
For the Slaninas, every day is like Thanksgiving. They're constantly aware of their blessings and gifts.
Slanina's condition, caused by insufficient oxygen to his brain at birth, affects his nervous system and some muscle function. Slanina has hypertonic cerebral palsy, which causes his muscles to tighten.
He knows how fortunate he is.
"It's very important. I don't want to take it for granted," Slanina said. "I don't want to get overconfident about how much ability I have, considering there are people who don't have that and are in wheelchairs and stuff like that. I try not to be that person."
Slanina plays on the offensive line and wears the same No. 71 as his father, John, did at the school. While Laura says she doesn't like to watch him play — after all, what mom likes watching her son collide with another kid — she loves that he can.
"I'm just grateful," she said. "It's an honor to be his mother, it really is. It's an honor."
It's also an honor to have him on the team, his coach said.
Dallas Saunders never uses Slanina as an example. He doesn't have to.
It would be easy to tell a slacking player that if Joe can do it, he can too. But Slanina always beats him to the punch.
"The thing with Joe is that not too often do you really have to say anything about what he's doing," Saunders said. "The kids notice. He'll go through all the drills we do and leads by example. He wants to be as involved as he can be, and in his mind there isn't anything he can't do."
Sitting on his couch at his Poland Avenue home — taking a break from chowing down on Pepsi and Doritos with friends — Slanina just shrugs. It's not like he's trying to lead by example.
"I don't try to inspire people, even though I know my mom thinks it's cool and all," he said. "And when I'm with the football team, a lot of people try to put me as a role model, and I think that's really important. All teams need that and all people need that. But I try to do it by encouraging people to not give up and to keep trying.
"We were doing this [drill] where we were doing bear-crawls in this field," he added. "And my coach said, 'Hey Joe, if you can do it, why can't he do it?'
"I don't like to be pointed out. But sometimes it gets there. So I just try to encourage people."
Things weren't always so encouraging, though.
Slanina's lungs weren't fully developed at birth. And when he was born April 2 — he was due May 20 — no one knew what kinds of challenges awaited. Years of physical therapy and countless surgeries ensued, as well as some at-home therapy.
Laura said she would have to take a rough towel and scrape it across Joe's feet to stimulate his nerves. An hour a day. Every day.
She said Joe would scream and cry. But she had to continue for his sake.
"I couldn't think about it. I just had to keep going," Laura said. "If I stopped to think about how bad I was hurting him, I wouldn't have been able to continue."
John said he didn't have it in him.
"I wasn't strong enough," he said. "I would work 12-hour days, and the last thing I wanted to do was come home and torture my son."
The remedy put a strain on the marriage, the Slaninas admitted. But now the whole family, including other boys Steven, 18, and Drew, 13 — and Rusty, a pudgy beagle mix — are stronger because of it.
Laura said it has brought the family closer together. And closer to God.
"Personally, I'm a religious person. And I feel lucky and privileged to have him as a son and that God chose me — me of all people — to be his mother and take care of him," she said. "He has brought me nothing but joy and happiness. He is a testament of inspiration and that anything can be done if you put your mind to it."
Again, Slanina shrugs. He's just being, well, Joe.
He's been playing football since eighth grade. And at 6-foot-5 and as thin as a rail — 185 pounds — Slanina belongs on the field.
"I mean, I'm proud of it," he said. "People think that if I can do something then other people without [a condition] that don't really have any limits can do it. So it's really good, especially if a star player thinks he can't do something and I'm over here doing it, maybe he can rise above it. It's really nice to see people pushing their limits."
Football has helped Slanina with his balance, and the time in the weight room has helped his muscles. Falling down was a regular occurrence. Now it's a rarity.
Laura said her son refuses to take the elevator at school. And he wouldn't be caught dead in a school strictly for those with similar conditions.
"It's garbage," he mutters.
Slanina's parents have taught him that he's no different from anyone else. And don't even think about telling him he can't fit in.
"Can't is a swear word in this house," Laura said. "I always told him you can do whatever you want to do."
Yes, he may sway a little bit more when he walks — which has earned him the nickname "Big Daddy Wobbles" — but he stands tall.
His height made him an ideal choice for a lineman. His condition did not. Coach Saunders admitted he was cautious at first.
"If I said I had no concerns about him going out there and practicing, I'd be lying to you," he said. "One of the first things we did was get the OK from his doctor. We kind of picked our shots as to when we could get him in. After seeing him go through practice and gaining the confidence that he wasn't going to get hurt, it helped."
Slanina's passion for the game — he got that from his dad — also helped. The camaraderie has also been important.
"When you're doing stuff with your friends or football teammates, it's better," Slanina said. "I lift after school sometimes and I'm never by myself; I hate to be by myself."
With his attitude, he rarely is.
Last year, Slanina, his family and a few friends went up to Cleveland for a Browns preseason game.
Before the game, the Slanina clan got to meet several players and coaches. Warming up on the field was Slanina's idol and favorite player, Brady Quinn.
Slanina got Quinn's autograph and talked to the then-Browns quarterback briefly. Quinn then gave Slanina the warmup shirt off his back and a stocking cap. Slanina still has both.
Saunders said sports always provides reminders about how important a good attitude and hard work can be to success.
"It's one of the special things that, particularly in coaching and educating, are incredible," Saunders said. "I think he's a great example of not focusing on the negatives or letting anything in life hold you back. He gets the most out of every day."
"Joe is genuine," the coach added. "He means what he says. And that's why he is going to be successful in whatever he decides to do."
Right now Slanina is just content with the conclusion of his second football season.
"If I can finish a season, then I think that is a really big accomplishment for me," he said, adding his goal is to continue to play through senior year.
"When Thanksgiving comes around, that's when football ends and that's when I'm proud that I've been able to get through the things from June until November," he said.
Laura and John are proud every day.
Especially Laura.
She was the one who drove him to his appointments and therapy. She was the one who stayed up late at night to watch over him. She was the one who cried when he overcame every hurdle.
"As far as me and him, we're a tag team," she said.
Sitting as a family in the living room, with Rusty sleeping in the other room and Madden on pause, Laura asked Slanina rhetorically who had helped him the most.
"Dad," he said without blinking.
Laura replied by calling him a "little brat" and punching him in the arm.
But don't worry, Slanina will be fine.
He's a tough kid.