Leslie Nielsen, star of 'Airplane!,' dies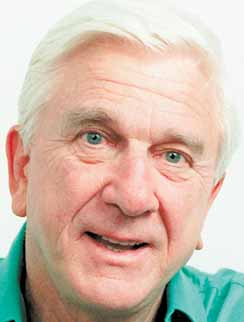 Photo
ASSOCIATED PRESS
Actor Leslie Nielsen in 1991.
Leslie Nielsen, star of 'Airplane!,' dies
FORT LAUDERDALE, FL
Leslie Nielsen, who went from drama to inspired bumbling as a hapless doctor in "Airplane!" and the accident-prone detective Frank Drebin in "The Naked Gun" comedies, has died. He was 84.
His agent John S. Kelly says Nielsen died Sunday at a hospital near his home in Fort Lauderdale where he was being treated for pneumonia.
The Canadian-born Nielsen came to Hollywood in the mid-1950s after performing in 150 live television dramas in New York. With a craggily handsome face, blond hair and 6-foot-2 height, he seemed ideal for a movie leading man.
He quickly became known as a serious actor, although behind the camera he was a prankster. That was an aspect of his personality never exploited, however, until "Airplane!" was released in 1980 and became a huge hit.
Candidates seek halt to election in Haiti
PORT-AU-PRINCE, HAITI
Haiti's election ended in discord Sunday, with nearly all the major presidential candidates calling for the vote to be voided over fraud and U.N. peacekeepers lamenting "numerous incidents that marred the elections."
Sunday evening found crowds surging through the streets carrying tree branches and campaign posters, some protesting problems with the balloting but most jubilantly claiming victory for their candidates.
Twelve of the 19 candidates for president endorsed a joint statement denouncing the voting as fraudulent and calling on their supporters to show their anger with demonstrations against the government and the country's Provisional Electoral Council, known as the CEP.
Answers sought in murder from 1975
SIOUX FALLS, S.D.
A long-delayed murder trial may shed light on who ordered the decades-old killing of an American Indian Movement activist who was shot in the head and left to die on South Dakota's Pine Ridge reservation.
John Graham, a Southern Tutchone Indian from Canada and former AIM member, heads to trial on murder charges this week in South Dakota court. Prosecutors allege Graham was one of three AIM activists who kidnapped and killed Annie Mae Aquash because AIM leaders believed she was a government spy.
Aquash's death, which occurred 35 years ago next month, quickly became synonymous with the violent clashes between AIM and federal authorities in the 1970s. One person has been convicted of the murder, and another pleaded guilty this month in connection with her kidnapping.
Climate talks will turn to money
CANCUN, MEXICO
Facing another year without a global deal to curb climate change, the world's nations will spend the next two weeks debating how to mobilize money to cope with what's coming — as temperatures climb, ice melts, seas rise and the climate that nurtured man shifts in unpredictable ways.
Beginning today, 15,000 government delegates, environmentalists, business leaders, journalists and others will gather in the meeting halls of this steamy Caribbean resort for the annual conference of the 193-nation U.N. climate treaty.
They meet late in a year that may end tied for the hottest globally in 131 years of record-keeping.
Associated Press