For social worker, it's all about the clients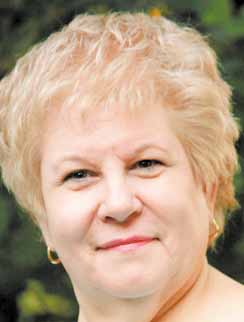 Photo
BOARDMAN
Barbara Yates, today an award-winning social worker, started out studying biology and math in college preparing to do "some sort of research."
Instead, she changed directions and began preparing for a hands-on people profession working with the mentally disabled.
She recently received the 2010 Lifetime Achievement Award from the Ohio Chapter of the National Association of Social Workers recognizing her 40-year body of work.
"I need to have client contact. I know I have to do paperwork, but what I really like is working with clients and seeing them do things for themselves and being successful," said Yates, of Boardman, a 1965 graduate of Ursuline High School.
Before the NASW state award, she was selected for the Lifetime Achievement Award for Region 4 of NASW and in 2009 was named outstanding supervisor for the Ryan White Program in Ohio by the Ohio Department of Health.
"It's a very rewarding career helping people make positive changes in their lives," said Yates, who is perhaps best known for her efforts as chief executive officer of Woodside Receiving Hospital, working up to its closing in 1996.
"This task required unimaginable levels of tact, skill, negotiations and empathy" involving numerous agencies and groups in several counties all the while "focusing on the welfare of our hospitalized patients," said Kathleen Shutrump in her letter to NASW supporting Yates' nomination.
Woodside hospital was closed when the state mandated that mentally disabled citizens become part of the community and receive care and live in the least-restrictive environment possible.
The move to a less-structured environment didn't work for everybody. But most clients did more and made more progress than anybody would have thought, Yates said.
Some clients did amazing things they never would have done while institutionalized. Some never required hospitalization again, and others spent short periods in local hospital psychiatric units and then were back to their regular lives. Some got jobs and still have them, she said.
"It even surprised me," she said.
Yates, who graduated in 1970 from Youngstown State University and received a master's degree in social work in 1976 from Florida State University, started her career as a social worker with the Mahoning County Welfare Department in 1971. In the same year, she moved to Woodside hospital, working there in various capacities and in other agencies until becoming Woodside's CEO in 1993.
Most recently, she was clinical auditor and utilization manager for the Mahoning County Mental Health Board for a few months in 2007 and then joined Family Service Agency where she is clinical and administrative supervisor of the Family Counseling Program and the Ryan White medical-case management program.
In a letter supporting Yates' nomination, David Arnold, president and CEO of Family Service, said she is "respected by mental-health administrators as a person who has a deep and abiding knowledge of mental health."
Yates, the daughter of Louis and Elizabeth Kotel, has a son, Thomas Scheffner of Hubbard, and a brother, Lou Kotel of McDonald.
She said she was "surprised and humbled to be chosen by her peers for the award."
"I've always tried to do a good job and help my clients and co-workers. I thought I was just getting up and going to work every day. For people I've worked with over the years to think that was special is overwhelming," Yates said.