Union preschoolers give thanks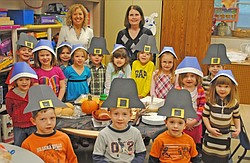 Photo
Neighbors | Shaiyla Hakeem .Students at Union Preschool dressed as pilgrims and ate a Thanksgiving feast Monday. They made their own head gear and which they wore as they enjoyed traditional Thanksgiving dishes.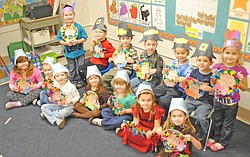 Photo
Neighbors | Shaiyla Hakeem .Union Preschoolers made thank you wreaths for Thanksgiving that stated what they were thankful for. They ate an early Thanksgiving feast during class Monday.
Pilgrims and Indians sat together Monday at Union Preschool for an early holiday feast.
The 4 and 5-year-olds participated in a classroom Thanksgiving event where they feasted on turkey, corn, potatoes and cranberry sauce with their peers.
The 3-year-olds ate their Thanksgiving meal on a separate day. Some dressed as Pilgrims, while others dressed as Native Americans for the celebration.
The students made a "thankful wreath" to take home with them for the holiday. The colorful wreaths listed various aspects of their lives they were thankful for.
Food for the feast was donated by parents and faculty members. This Thanksgiving tradition has been a part of Union Elementary for more than 20 years.
More like this from vindy.com