Uncle Sam shoves Mr. Nice Guy off shelves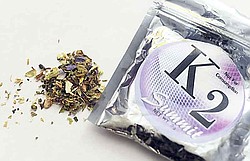 Photo
This Feb. 15, 2010, file photo shows a package of K2 , a concoction of dried herbs sprayed with chemicals. Authorities in 13 states thought they were acting to curb a public health threat when they outlawed a form of synthetic marijuana known as K2: a concoction of dried herbs sprayed with chemicals. But even before the laws took effect, many stores that did a brisk business in fake pot had gotten around the laws by making slight changes to K2's chemical formula, creating knockoffs with names such as "K3," "Heaven Scent" and "Syn."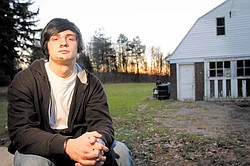 The Vindicator (Youngstown)

Photo
Bruises cover the left side of Brandon Ouellette's face as he sits outside of his Austintown home on Tuesday evening. Ouellette says he hallucianated after smoking Mr. Nice Guy incense and dove face first into the curb landing himself in the hospital with minor scrapes in addition to symptoms of a drug overdose including troubles breathing and what he says doctors called seizure-like activity.
DEA moves to make fake marijuana illegal
By Elise Franco
The Drug Enforcement Administration placed an emergency control on five chemicals found in synthetic marijuana, just one day after an Austintown teen spoke out about ill effects one product had on him.
The DEA used its emergency scheduling authority to temporarily control JWH-018, JWH-073, JWH-200, CP-47,497, and cannabicyclohexanol, the chemicals used to make products such as "Mr. Nice Guy," "K-2" and "Herbal Spice," according to the DEA.
The ban means possessing and selling these chemicals or products containing them is illegal in the United States for at least one year. The ban will help the DEA and the U.S. Department of Health and Human Services study and test whether the products should be permanently controlled, according to the DEA.
Austintown teen Brandon Ouellette, 15, and his parents, Neil and Sarah Ouellette, spoke out Tuesday about Brandon's experience with Mr. Nice Guy, which is marketed as one of the strongest versions of the substance.
Sarah Ouellette, Brandon's step mother, said she's thrilled stores and websites will be forced to stop selling the products.
"I'm ecstatic," she said. "I'm glad it's being pulled off shelves so they can do the testing needed."
Ouellette said the scariest thing about the product is that doctors and police are so unfamiliar with it.
"Nobody understands what long-term effects it has," she said. "Studies are starting to classify the chemical makeup as comparable to heroin and cocaine, which is addictive."
Brandon Ouellette was hospitalized on Sunday after taking three hits of Mr. Nice Guy with a group of his friends. He said after smoking the substance, he hallucinated that he was standing at the edge of a cliff, ready to jump. In reality, Ouellette dove face-first into a curb, busting his chin and mouth.
In addition to the hallucinations and subsequent physical injuries, he said he had trouble breathing and seizure-like symptoms that lasted about six hours.
Brandon Ouellette wasn't available Wednesday to comment, but his stepmother told The Vindicator that he was happy about the ban.
"We're more at ease now, knowing something has been done about it," she said. "[Brandon] is hoping that they pull it immediately, also."
A Notice of Intent to Temporarily Control was published in the Federal Register on Wednesday, informing the public of the action. After 30 days, DEA will publish a Final Rule to Temporarily Control these chemicals for at least 12 months.
"Makers of these harmful products mislead their customers into thinking that 'fake pot' is a harmless alternative to illegal drugs, but that is not the case," Michele M. Leonhart, DEA acting administrator, said in a news release Wednesday. "Today's action will call further attention to the risks of ingesting unknown compounds and will hopefully take away any incentive to try these products."
Brandon Ouellette said his friend's cousin, who is 18, bought the Mr. Nice Guy at Smoke A Lot smoke shop in Niles. The manager of the store, who would only identify himself as Mo, said he hadn't heard about the ban, but the shop no longer sells that particular product.
"Mr. Nice Guy is off the shelf already," he said. "Whatever we have (on shelves now) we're going to try to bring it back, and if we can't, it is what it is."
The manager said the products are sold as "herbal smoking incense" and not as a legal form of marijuana. He said he doesn't plan to pull anything else from the shelves until he knows for sure his products have been banned.
"As long as it's legal we sell it," he said. "If it's banned, then we won't sell it."
The man who created three of the chemicals as part of his government-sponsored research nearly 20 years ago said, "They are dangerous and anyone who uses them is stupid."
John W. Huffman, a retired organic chemistry researcher from Clemson University, said in a telephone interview from his Sylva, N.C., home, "They seem to be pretty toxic."
He said the reported medical problems have included overdoses, cases of addiction and even suicide.