Thankful thoughts shared at mayor's prayer breakfast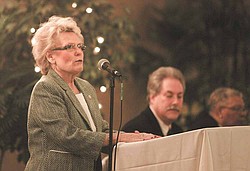 The Vindicator (Youngstown)

Photo
Cynthia E. Anderson president of Youngstown State University, was the keynote speaker Tuesday at the 25th annual Mayors' Prayer Breakfast in the Mahoning Country Club. Anderson said the upcoming Thanksgiving Day prompts many Americans to examine the "wonderful blessings" in their lives.
By LINDA M. LINONIS
GIRARD
Cynthia E. Anderson shared why she was thankful for her childhood filled with love and faith with the nearly 200 who attended the 25th annual Mayor's Prayer Breakfast on Tuesday morning at the Mahoning Country Club.
The keynote speaker, Anderson, president of Youngstown State University, said the upcoming Thanksgiving Day prompts many Americans to examine the "wonderful blessings" in their lives.
The deaths of her parents, Anderson said, brought into focus the importance of being thankful and telling people "thanks." When her mother died in 1990 and her father in 2000, both were unexpected. "I didn't have time to say goodbye or say thanks," she recalled.
She relayed a story about how her father, who had worked at The Vindicator, left work one day and came across a distraught man who had just lost his job. It was three days before Christmas, and the man, his wife and three children were facing a bleak holiday. She said her parents made sure the family had a Christmas tree and gifts and money for rent. Their help got the distressed family through a temporary crisis.
Anderson said the graves of her parents in Tod Homestead Cemetery always were decorated, and it was puzzling. One day when she stopped by, she saw people by their graves. It was the family her parents had helped many years before who continued to say thanks. "I was so proud of my parents," she said.
Anderson said family, faith and friends are among the elements that contribute to one's success. She said the university has many statistics about its students, and about 8 percent of those who fail to complete college drop out for reasons other than money.
"Love, support and nurturing," she said, which comes from family and friends and costs nothing, is one of the elements that contributes to students' success. "I had faith, which provided me with hope and guidance," she added.
Elsie Dursi, director of Mahoning Valley Association of Churches since 1989, welcomed those in attendance. Dursi said the breakfast remains an interfaith gathering that "brings people of faith together" to pray and socialize.
Youngstown Mayor Jay Williams said he appreciated the interfaith gathering because it brought many faith traditions together, and each respects the other. Williams said his faith is a guiding force in all aspects of his life including his role as city leader. Williams said faith directs behavior.
Ursuline High School's Inspire Choir, directed by Joan Williams, provided musical entertainment.
Other program participants were: Arthur Einzig, president of Congregation Ohev Tzedek in Boardman; the Rev. Gena Thornton, pastor of Grace African Methodist Episcopal Church in Warren; the Rev. Bernard Bonnot of St. Nicholas and Holy Trinity churches in Struthers; and Dr. Chet Cooper, biology professor and president of Academic Senate at YSU.