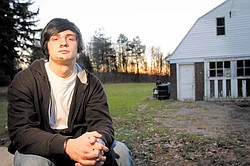 The Vindicator (Youngstown)

Photo
Bruises cover the left side of Brandon Ouellette's face as he sits outside of his Austintown home on Tuesday evening. Ouellette says he hallucianated after smoking Mr. Nice Guy incense and dove face first into the curb landing himself in the hospital with minor scrapes in addition to symptoms of a drug overdose including troubles breathing and what he says doctors called seizure-like activity.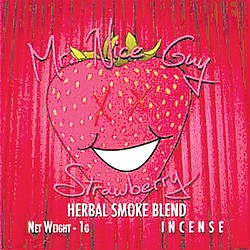 Photo
Mr. Nice Guy is classified as an herbal smoke-blend incense and is sold in smoke shops to customers 18 and older.
Austintown teen swears off herbal smoke blend after terrifying ordeal
By Elise Franco
efranco@vindy.com
Austintown
Brandon Ouellette thought he was standing on the edge of a cliff, so he jumped.
In reality, Ouellette dove face-first into a curb — the result of a halluci-nation he says was caused by a legal herbal smoking blend purchased at a local smoke shop.
The 15-year-old Fitch High School student said he first heard about the substance, labeled Mr. Nice Guy, while on the school bus, and on Sunday he and three friends decided to try it.
Ouellette said it was the first and last time he would experiment with any type of substance, legal or not.
"I was hearing a bunch of stuff through
everyone," he said. "I didn't classify it as a drug because it's legal and you can buy it at local stores."
Mr. Nice Guy is classified as an herbal smoke-blend incense and is sold in smoke shops to
customers 18 and older, said a manager at Smokes A Lot in Niles, where one of the teens, who is 18, purchased the product.
The manager, who would identify himself only as Mo, said store employees don't know of any side effects from smoking the substance.
"It's sold as a herbal incense," he said. "We carry the product for those purposes."
Packaging on the incense reads: "Not for
human consumption" and "Not FDA approved."
Ouellette said that when his friends went into the shop, the employee warned them not to smoke it before driving and to "smoke with caution."
"I almost died," he said. "I hallucinated and saw a bunch of things that I thought were real. I dove off a cliff in my head, but in real life, I was standing on a curb and dove into the concrete."
The injuries landed Ouellette in St. Elizabeth Health Center's Austintown emergency room, where doctors told his parents he had overdosed, he said.
He said one of the friends with whom he smoked also was taken to the hospital because he was having a psychotic episode.
It's those side effects that keep Plaza Book and Smoke Shop in Austintown from carrying Mr. Nice Guy, or any form of herbal incense such as K-2, said employee Joe Sikora.
"The owner said he doesn't want to mess with the stuff," he said. "We get calls, anywhere from three to five a day on average, of people asking for K-2, Herbal Spice and Mr. Nice Guy."
Sikora said though the substances are legal in Ohio, they still pose dangerous risks for those who consume them. They sell online for about $12 per one-gram pack.
"It's basically like a synthetic marijuana that looks like grass, and it's sprayed with a chemical," he said. "That's what the people get their buzz from."
The teen's father and stepmother, Neil and Sarah Ouellette, said they weren't angry with their son for smoking the substance, but they were upset by how easily obtainable it was for a minor.
"We were just worried about him," she said. "He's stayed away from things that are illegal, and then he tries this stuff now because it's legal, so he think's it'll be OK. How many other kids are going to do the same?"
Neil Ouellette said that since the substance is undetectable and doesn't show up in drug tests, doctors at the hospital didn't know how to treat it.
"Watching him laying there that night for six hours, I don't want to see anyone else's kids go through that," he said.
Brandon Ouellette said once he told doctors what he'd smoked, they had to look the substance up online to get more information.
Sarah Ouellette said she took some Mr. Nice Guy to the Austintown Police Department, and officers there also hadn't heard of it.
Austintown Detective Sgt. Jeff Solic said the only information he has about the substance is what he's found on the Internet. "I sent it out to [the Bureau of Criminal Identification and Investigation], and I don't know if it will come back as anything," he said.
Solic said the incident is not something the department is taking lightly, and he will continue to investigate.
"If one kid gets hurt, then it's a problem," he said. "Once I know what we're dealing with, then we'll go from there. I'll try to look into it and see what some of these other states have done to restrict it, but it's obviously not something I can do overnight."
Vince Colaluca, Austintown schools superintendent, said he also was unaware of the incident and unaware of the substance and its effects until contacted Tuesday by The Vindicator.
"No, we weren't aware of this, but we have a very good thing in our partnership with Austintown police," he said. "When things like this happen, we want to get in front of it and bring it to the surface."
Sarah Ouellette said she ultimately wants to see the product pulled from shelves.
"I want to get the word out to these kids and adults because people need to know about this product," she said. "I'm not trying to protest the stores, but this stuff needs to be pulled."
Though Brandon Ouellette said he knows not every kid will stop smoking the incense, he hopes at least some will learn from his mistake.
"I know of tons of people who do this," he said. "If this kind of thing can happen to me, it can happen to more people."