Pretrial rulings made in Houser case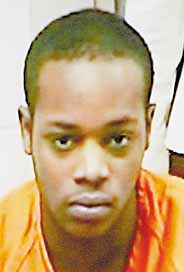 Photo
YOUNGSTOWN
The jury selected for the trial of a man accused of killing an 80-year-old woman will not hear about his legal problems as a child or charges claiming he was a felon in possession of a gun.
Jamar Houser, 19, of Volney Road, appeared Monday before Judge Lou D'Apolito of Mahoning County Common Pleas Court for a pretrial hearing in the murder case that could cost him his life. Houser was indicted in March on charges of aggravated murder, aggravated robbery and illegal possession of weapon. The charges have death-penalty specifications.
Houser is charged in the Jan. 23 murder of Angeline Fimognari, 80, of Sheridan Road, in the parking lot of St. Dominic Church on the South Side. Fimognari was shot in the head. Her purse was missing, leading police to believe she was a victim of robbery turned deadly.
Houser is being held in the Mahoning County Justice Center.
Judge D'Apolito ruled on several motions by the defense including a motion to separate the gun charge from the remaining charges in the indictment, to not prejudice jurors against Houser by mentioning previous crimes. Judge D'Apolito said separating gun charges in cases such as Houser's is standard practice.
Judge D'Apolito also granted the defense a motion to eliminate any information about Houser's juvenile criminal record.
The case is moving forward with representatives from the defense and the state planning to witness DNA testing associated with the case. Prosecutors are not saying what DNA is being tested.
The judge also ordered that video footage from a Shell gas station and FBI reports about video it tried to enhance from the church be turned over to the court.
Houser is due in court again March 4.