Clinics draw 50% fewer for flu shots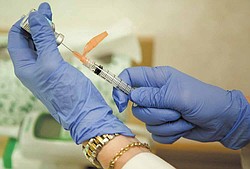 ASSOCIATED PRESS

Photo
In this Aug. 27, 2010 file photo, nurse practitioner Susan Brown prepares a flu vaccination for a customer, in Rockville, Md. The service sector grew at a faster pace in October than the previous month, the 10th straight month of growth. (AP Photo/Evan Vucci, file)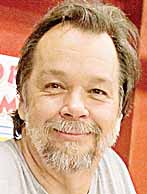 Photo
Medical Director of Mahoning County District Board of Health, John Venglarcik M.D., stands at a booth dedicated to dispersing information on the H1N1 Virus at the Canfield Fair on Sept. 5, 2009.
THE FLU: 2010
Fast facts
Since beginning to track the flu in Ohio on Oct. 3, there has been "sporadic minimal activity" in Ohio and 34 other states.
So far in Ohio, there have been 17 confirmed influenza-related hospitalizations, including 2 in Trumbull County and none in Columbiana and Mahoning counties.
While the Centers for Disease Control and Prevention in Atlanta says everyone should get a flu vaccine each flu season, the CDC notes it's especially important that the following groups get vaccinated:
Pregnant women.
Children younger than 5, especially those younger than 2.
People 50 and older.
People of any age with certain chronic medical conditions.
People who live in nursing homes and other long-term care facilities.
People who live with or care for those at high risk for complications from flu, including health-care workers.
Source: Ohio Department of Health/U.S. Centers for Disease Control and Prevention
YOUNGSTOWN
It is as important to get a flu shot this year as it was last year at the height of the H1N1 influenza pandemic, health officials said.
But people are not getting the flu vaccine this year in the numbers they did in 2009 because there is no pandemic or vaccine shortage to raise people's fears, said Dr. John Venglarcik III, medical director for Mahoning County District Board of Health.
"Our clinics are drawing about 50 percent fewer people than last year," said Matthew Stefanak, health board commissioner.
Stefanak said he wonders whether people have become complacent because they got the vaccine last year or whether they have received shots at private sites instead of clinics sponsored and monitored by public health departments.
It may be that fewer people are getting flu shots this flu season, but it won't be known for sure until after the season ends next year when the U.S. Centers for Disease Control and Prevention does its survey, the health commissioner said.
The bad news is that it appears that people in the community are not getting the shots in numbers as they did last year. The exception to that is the over-65 age group, which has the highest rate of inoculation, Dr. Venglarcik said.
Seniors are well-informed about the new high-dose vaccine designed specifically for them and either ask for it or when it is offered or say they have heard of it, said Diana M. Colaianni, county health district nursing director.
The good news, Dr. Venglarcik said, is that he has seen better use by health-care workers.
Forum Health Northside Medical Center is closing in on 60 percent, the highest rate ever for this point in the year. Community Health Systems, Northside's new owner, has supported the process and the infection- control nurses have gone out of their way to make vaccine available to everybody, the doctor said.
Dr. Venglarcik urged people to use private providers to get their flu shots if convenience matters to them. If the pharmacies and other sites don't make a profit, they may not offer the shots in future years.
Another thing missing this year are school-based clinics in which thousands of area children received the H1N1 vaccine, which was funded by the federal government. That money is not available this year so neither is the program, Dr. Venglarcik said.
Health officials also urged parents to get the flu vaccine for their school-age children.
"They are the little incubators that catch the flu at school and bring it home," Colaianni said.
The bottom line is the seasonal-flu vaccine is effective and is a worthwhile investment to avoid getting the flu. It is a lot less expensive than a hospital emergency room or long-term care, he said.
With the Thanksgiving holiday being the traditional start of the flu season, Dr. Venglarcik advised anybody traveling to get a flu shot as soon as possible because the vaccine takes about 10 days to become effective.
"My advice would be to get the seasonal-flu shot every year because the flu virus changes and the vaccine is designed to protect against it," Stefanak said.
He added, "I would be remiss if I didn't urge frequent hand washing, and to cough and sneeze into your elbow, not into your hands."
More like this from vindy.com